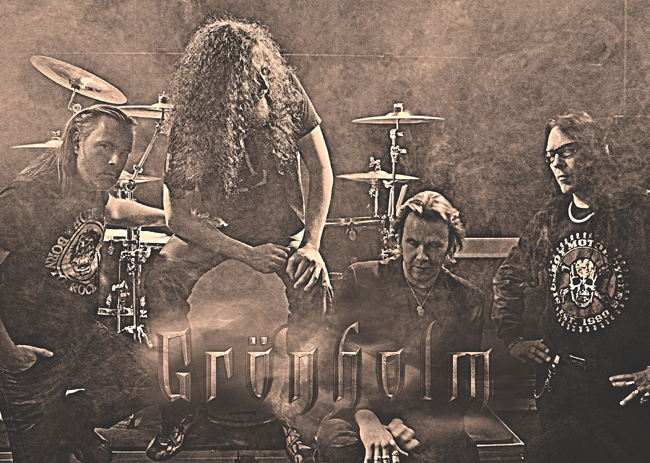 Grönholm started in 2009 when Finnish musicman Mika Grönholm had the idea to make a record of his music. Markku Kuikka (singer) and Tom Rask (drummer) came to the team after hearing some demos of what would become the bands debut release.
The working method of the trio sees a lot of writing taking place in each musicians home studio where they are able to add their own style to the Mika's compositions without the need to travel between homes and recording studios across Finland.
This style of writing and recording has seen two positive albums to date in 2010's 'Eyewitness Of Life' and 2011's 'Silent Out Loud', both of which has also seen guest performanes from the likes of Ty Tabor (Kings X), Derek Sherinian (Black Country Communion), Billy Sherwood (ex Yes) and Marco Hietala (Nightwish/Tarot).
MIKA GRÖNHOLM
Guitars, music and lyrics
Mika got to playing, livin and lovin music around 1985. From early on, recording and producing song ideas was an important factor for him in exploring the world of music. He played a few gigs with local bands and worked as a recording engineer in Soundtrack studios in Helsinki 1994-2000. During that time he recorded and mixed about 30 albums and as an assistant to almost every session. Like the cliche goes he is dedicated to his music with the heart.
TOM RASK
Drums
Tom picked up the drums sticks at the age of nine in his music school. Rock music got the young man`s attention and that soon became the main road for his drumming and creating music. First albums and gigs he made with Mannerheim, a metal band that started in 1988. From early 90`s Tom gathered more experience under his belt with the bands like Underdog, a traditional heavy metal band with a great female vocalist Annica Wiklund, punk bands Problems and Maukka Perusjätkä and afterwards Marenne and Mika Grönholm.
MARKKU KUIKKA
Vocals
Markku began his life with music over 30 years ago. It started by playing guitar and many years later, singing; first to back up his own guitar playing and after that on many bands and projects. Mika found Markku through the internet site mixer, where people share their own music. Markku sang a few cover songs to Mika and after that he was asked to join as a Singer for his record. Besides Grönholm`s two albums, Markku`s powerful and clear voice can be heard on albums of Status Minor, Thaurorod and Mattsson.