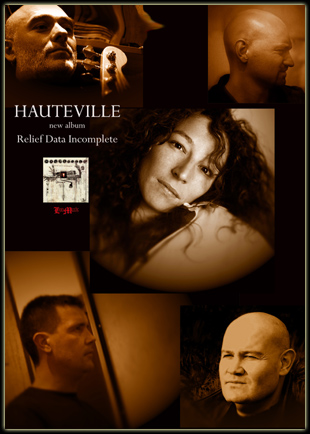 The recording of a self produced EP in Paris in the middle of the 90ies brought the HAUTEVILLE project to life. Out of the cinders of a group called NETWORK - which had only a regional impact – came HAUTEVILLE with a sophisticated and reworked rock style. Their unique style cannot be called "progressive", "AOR" or "Hard Rock FM"… It is probably a little of each … Smack in the middle of the post-grunge period, this type of profile is nevertheless not a leaning, an artistic orientation or a colour but rather … a pathology.

They don't care.

At this point, the sextet is made up of Cyril GRIMAUD (Vocals), Lydie GOSSELIN (background vocals), Laurent OBER (Bass), Didier THERY (Keyboards), Denis TURMEL (Guitars) and Vincent TURMEL (Drums). The CD is self-made, Didier THERY at the controls takes off with the recording, the mixing…

The band gives quite a few gigs in small venues and at festivals and occasionally works with its counterparts. In a nutshell, the band follows the usual path of developing artists although their music genre doesn't allow for easy access neither to general public rock media nor to the most popular scenes.

Again, they don't care.

The band keeps working, rehearsing, composing… and releases, under French label Brennus, a first album in 1998. This album receives an excellent welcome from the hard and progressive musical press both French and international...

So ? What's up ? Not having sold the hoped for 500.000 albums, HAUTEVILLE could have disappeared hook, line and sinker like most other similar bands...

But … what do they care ! (almost …) This is the group's real strength. If it lost a singer along the way, aspiring for quicker fame and success, with Lydie taking the lead vocals it obtained a female one, and what a singer.

HAUTEVILLE don't run behind the most famous hard and prog'rock figures by copying such and such artistic finds to gather some crumbs of what's "in". It continues to develop, ripen, digesting influences and freeing itself from them, perfecting its own musical discourse, free from all marketing constraints…

Almost 10 years later, in 2006, the result is a new album called "Relief Data Incomplete". 10 years continuing to be more and more demanding in all areas : composing, arranging, originality, interpretation lyrics, production… 10 years to make HAUTEVILLE a unique species, a lone music style, sui generis.

Some would say 10 years is what is necessary to start making a good Bordeaux or Burgundy wine… after all, we are in France !