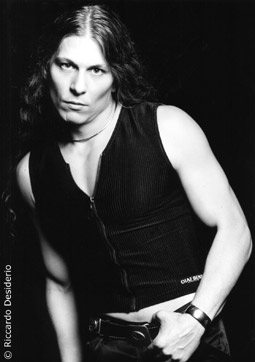 Since 1990, singer and producer Hubi Meisel from Munich/Germany (*31st July 1974) had been member of various metal/hard rock groups before he met German progressive metal band Dreamscape and joined them as their new singer in early 1998. During their co-operation, the album Dreamscape - "very" (1999, Rising Sun) was recorded, and they also played a couple of gigs and supported the complete "Oceans of Time" tour of Axel Rudi Pell. Due to musical differences, however, Hubi and Dreamscape finally went separate ways in summer 1999.

After these experiences, he soon felt that he had to go his own way and finally decided to start a solo-career. In January 2002, his first Solo CD Hubi Meisel -"C U T" was released. "C U T" was the realization of one of his childhood dreams, i.e. the new interpretation and re-arrangement of his favourite 80's pop songs in Rock/Metal style.

In spring 2002, Hubi already started working on his second Solo-CD Hubi Meisel -"EmOcean". EmOcean is a complex concept album, dealing with the Bermuda Triangle, Sargasso Sea, Atlantis and the underwater world. Before writing the concept and lyrics, Hubi made enquiries in libraries and scientific archives in order to get the necessary background information for his comprehensive concept story. The description of Atlantis is mainly based on the original text of Plato's "Critias" and the visions of holistic doctor Edgar Cayce (revealed in 1940). Having studied ancient Greek at school and university, it's not surprising that Hubi has also woven some elements of ancient Greek mythology in his concept, which gives it an even more mystic touch.

The concept story of "EmOcean" can be downloaded as Acrobat PDF file under the following URL: http://www.hubimeisel.com/Concept/EmOcean.pdf

For this album, Hubi cooperated very closely with French keyboardist Vivien Lalu (Shadrane - keys), who composed the instrumental music according to Hubi's directions. The line-up for "EmOcean" has been completed by the following international top-class musicians: Daniel Flores (Mind's Eye- drums) from Sweden, Dutch guitar maniac Marcel Coenen (Ex-Lemur Voice, Sun Caged) and French Bass Wizard Jean B. Affonço (Absolute). "EmOcean" was mixed and produced by Hubi Meisel in his studio in Munich.

"EmOcean" will be released as limited special edition digipack with the 2 bonus tracks "Crystal Moon" and "Tears of an Enchanted Sea", which feature Joop Wolters on guitars & bass.