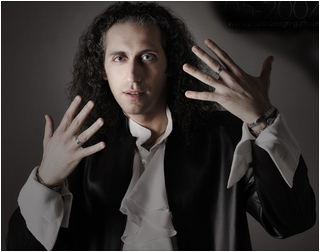 Born and raised in Italy, keyboardist Mistheria has built up a reputation amongst the very elite of today metal keyboardists. With a style equally at home with the classical masters as with works from the like of Angel Of Eden, Bruce Dickinson and his own solo endeavours, Mistheria has become one of the most respected keyboardist in the metal realm.

Mistheria first started his musical education at just 7 years old thank to his fathers influence, and from here went on and graduated with full honours in "Organ and Organ Composition" at Music Conservatory "Casella" (L'Aquila/Italy) under the guidance of Prof. Annamaria Polcaro and Maestro Paolo Cerasoli. Since then Mistheria has studied more modern day technologies and is now considered one of the leading authorities in Italy on computer based recording and synthesier programming.

Mistheria first major experience came in 2000 when Neil Zaza asked Mistheria to be his keyboard player, a position which he has since returned to at several points over the years for Italian dates with the american guitarist. Recordings with Swedish power/neo-classical act Winterlong and Rob Rock (ex Impellitteri) then took place along with Mistheria contributing to Lion Music tributes to Jason Becker, Shawn Lane and Jimi Hendrix.

Mistheria released his debut album solo album "Messenger Of The Gods" via Lion Music in 2004 with the album recieving critical acclaim around the globe with many journalists listing Mistheria in the same class as Jens Johansson, Vitalij Kuprij and Jordan Rudess. This album is home to several notable names including Rob Rock, Hubi Meisel, Alex Masi, Anders Johansson, Tommy Denander and John Macaluso. The album helped propel Mistheria's reputation further and in 2005 Iron Maiden vocalist Bruce Dickinson asked Mistheria to contribute keyboards to his "Tyranny Of Souls" solo album.

2006 saw Mistheria hook up with Artension guitarist Roger Staffelbach in Angel Of Eden, along with vocalist Carsten Schulz and Rami Ali and t heir debut album "The End Of Never" sees release via Lion Music on November 16th 2007.