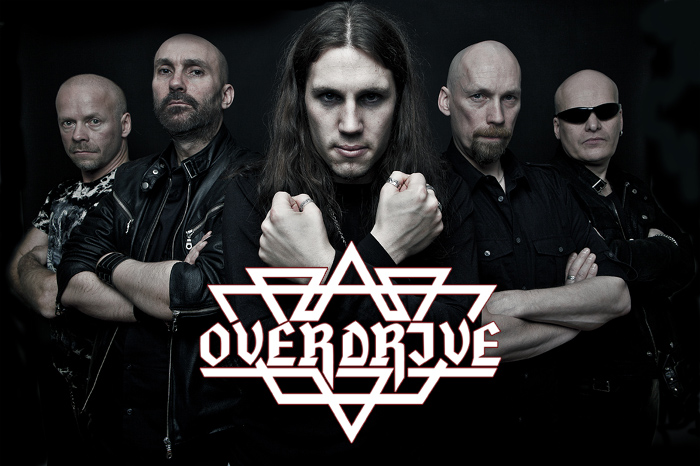 Overdrive was formed in 1980 out of the two local bands Paradize (recorded one 7") and Ocean (recorded two 7"'s and an album). In 1981 we recorded the self-financed MLP "Reflexions", that has become quite a collectors-item. The band also recorded the non-LP tracks "Tonight" and "Damnation Angel" for the local compilation "Rockslaget" (SOS 1982). The band was soon contacted by Planet Records and in 1983 they signed a deal.
In 1983 the debut "Metal Attack" was released and it made a great impact on the Swedish, and European, metal scene. It was soon followed by "Swords And Axes" in 1984, and album that received top ratings in lots of reviews world wide.
In the Spring of 1985 Kenth was replaced by Zoltan Djember (ex. Ocean) and in June the same year the band split. Janne formed Overheat together with singer Pelle, now on bass. They recruited ex. Mercy/High Voltage-drummer Paul Gustavsson and ex. High Voltage-singer Gernot Iversen and recorded some demos. Kenta and Kjell continued with Pride, but also made only demos. Kenta later joined local band E-Type, who appears on a local compilation-CD. Kenth recorded some demos with Area and Interaction.
In 1991 Janne, Pelle and drummer Peter Svensson (ex. Faith, Mercy, Globe and later in Locomotive Breath) recorded two instrumental tracks for the compilations "Guitarheroes Of Sweden" (the track "In The Raw") and "... Part 2" (the track "Short Circuit").
In 1992 Overdrive partly reformed with Janne, Pelle (on bass), Kenta and new singer/guitarist Jörgen Aspring/Miller (ex. Blue Town, E-Type). A demo with the songs "Die For Love", "Mighty Lord", "Back To Basics" and "Lock Of Gold" was recorded in 1993 but no records were made.
In 1994 the band was permanently dissolved. Jörgen, Pelle and Kenta formed Crosseyed Mary, while Janne and Kjell formed Locomotive Breath.
In 1995 both Overdrive-albums were re-issued on CD on Rock Treasure.
In 1997 the original Overdrive line-up made a re-union gig 12 years after the split, at the Karlshamn Rock Festival. The gig was recorded both on video and tape. This was however a "one night stand". The recording was later released as "Mission Of Destruction - Live" on Crook'd Records.
In August 2003 Overdrive again reformed with the original line-up, for a show at the Rockslaget festival. The band did another gig in December and will play the Headbanger's Open Air in Itzehoe, Germany, in July 2004.
The band did another gig in December and played the Headbanger's Open Air in Itzehoe, Germany, in July 2004. Unfortunately Pelle now decided he wanted to quit. With not many weeks to go, the band luckily found singer Per Karlsson. Per was at the time frontman of the band Unchained. His voice was perfect for the band!
In January 2004 all three Overdrive-releases ("Reflexions", "Metal Attack" and "Swords And Axes" were re-issued on High Vaultage Records). All three releases had extensive booklets with family tree and the complete history of the band.
In June 2006 the band was to play Sweden Rock Festival and figured the wanted to have a new release to present. They re-recorded four old songs, with Per's new vocals as icing on the cake, added one previously unreleased song and released the new 5-track MCD "Resurrected" (ltd. ed 500).
The MCD and Sweden Rock show lead to a deal with Finnish label Lion Music and in January 2008 (Japan March) the band's first album in 24 years, was released: "Let The Metal Do The Talking". The album features both new tracks and tracks written between 1983-1986. The reviews however reveal it's not easy spotting the oldie. The album was mixed by Johan Blomström at Studio Sound Palace (Blinded Colony, Calm, Kaptain Sun etc), and he managed to captures the band's 80's feel and repackage it in a new box.
In July 2008 the band headlined the Baltic Sea Festival's Thursday show and the band is ready keep on rocking!
In 2009 the band kept working on new material, played some shows with Tokyo Blade, Carnival Sun etc. Janne was featured with a 4-page spread in Japan's No 1 metal mag Burrn!.

2010 marks the 30 year anniversary for Overdrive. In April the recordings of the new album commenced. The band played festivals like Muskelrock, Hasslöfestivalen, Metal Warning etc. In November a deal for the new album, "Angelmaker", was set for release in January 2011. The album was mixed by Pelle Saether and the cover made by Monowasp.

2011 - Release of "Angelmaker" on January 21. Release party at Compagniet in Karlshamn on February 25. The vinyl listening companion "The Angelmaker's Son", on vinyl only, is planned to be released in March as a limited edition.