JUNE 24, 2013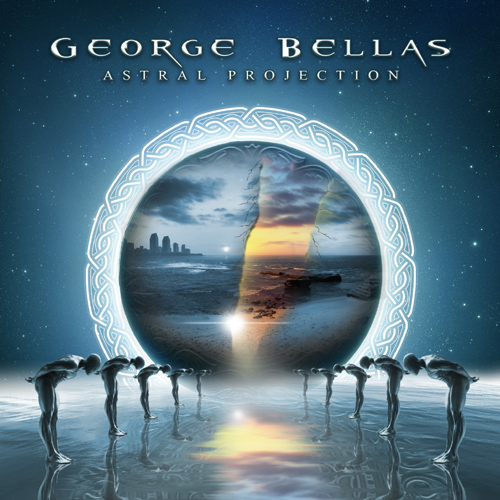 Screaming Guitar, Eccentric Rhythms, Outlandish Sounds, and Grandiose Forms are just some words to describe "Astral Projection" the killer new album from world acclaimed guitar virtuoso George Bellas out on 21st June 2013 via Lion Music.

"Astral Projection" is an amalgamation of guitar saturated songs and epic progressive instrumentals packed with chaotic guitar improvisations; mind-twisting rhythms; emotionally intense lyrical themes; and advanced explorations of modern melodic, harmonic and rhythmic principles that are combined with classical elements of counterpoint, harmony and form.

Once again (and as with his previous 3 releases) George has teamed up with drummer extraordinaire Marco Minnemann with Bellas handling all guitar, bass, and keyboard duties. George comments, "It's always a pleasure working with Marco and hearing him humanise the drum parts I composed and also add his unique sense of style and finesse. Some of the songs on this album have very complex rhythms (nothing new there!). I think when some people hear it they may not realise the complexity and just how difficult some of those rhythms are to play. Ever since I was very young I have always written very naturally using odd-meters, poly-meters, and other uncommon metric devices".
Musically, many of the songs contain a wealth of exotic scales, eccentric harmony and unusual progressions. George says on the subject of the album style, "There is quite a bit more aggressive, on-the-edge-of-your-seat improvisation throughout the album, especially on the shorter songs where the guitar plays the main themes. The progressive songs on this album have other instruments that present the main theme and the guitar is used as a subordinate embellishment device around the initial statements, and then later those themes are developed with various instruments. Some of the guitar embellishment phrases are quite bizarre".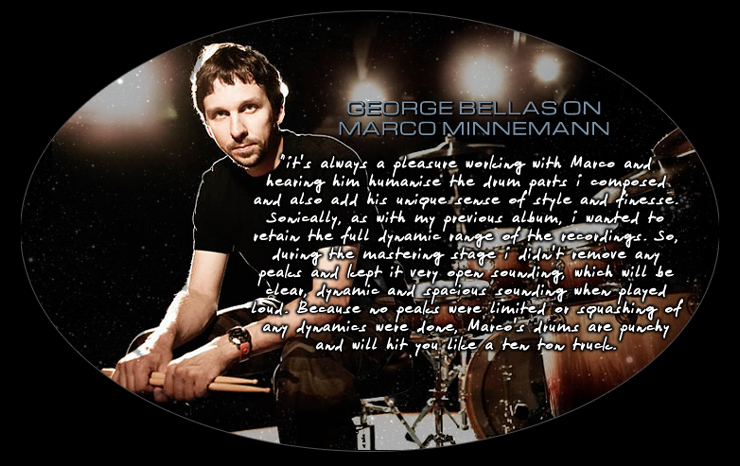 George has also seen fit to go against the modern day trend of cramming as much volume onto a recording as possible and has produced a more dynamic release for it, "Sonically, as with my previous album, I wanted to retain the full dynamic range of the recordings. So, during the mastering stage I didn't remove any peaks and kept it very open sounding, which will be clear, dynamic and spacious sounding when played loud. Because no peaks were limited or squashing of any dynamics were done, Marco's drums are punchy and will hit you like a ten ton truck".
Whilst "Astral Projection" might be the follow up release to 2010's "The Dawn Of Time" (Lion Music), this is not the first album of new material Bellas has created in this time, "After the release of my previous album "The Dawn of Time" I had a new album ready to go weeks after but had several other ideas that I also wanted to compose and develop, so I decided to release "Astral Projection" first and then the other albums afterwards. I learned a lesson to not announce a new album until you know it will be the next one released. But the truth is, I have so much music and am constantly writing that it is sometimes difficult to decide which one I want to publish next".
George Bellas - Astral Projection sees digital release via Lion Music on 21st June 2013.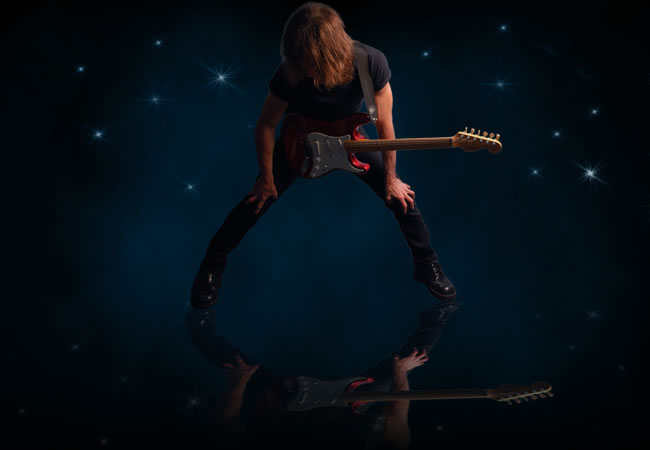 George Bellas is a guitarist and composer who was brought to the scene by Mike Varney in the late 1990's on Shrapnel Records. Bellas currently has a catalogue of over 20 albums that he has worked on with others and as a solo artist. He has played and recorded with an extensive roster of high-caliber players, including: Marco Minnemann, UFO (MoggWay), Dean Castronova, Virgil Donati, Ansley Dunbar, Trent Gardener (Magellan), Vitalij Kuprij (Trans Siberian Orchestra), Ring of Fire, John West, Uli Jon Roth, Michael Batio, Joe Stump, Johnny Hiland, and numerous others.

George's music exhibits an abundance of classical and ultra-modern composition elements and techniques that include; counterpoint; Baroque, Classical and Romantic era harmony; extensive odd-meters and complex rhythms; a plethora of post 20th century melodic, harmonic and rhythmic techniques; lyrical melodies; large and small classical forms; and intense guitar solos. "To me, it is not about the rate of notes that is played, but the profoundness of the music and how emotionally charged the playing within it is." - G.B.

As a prolific composer, Bellas is always sitting on a mound of music and continues to write endlessly while further exploring new composition devices with the simple goal of wanting to hear something fresh that stimulates the mind and emotions.

George is also an esteemed guitar and composition instructor and has taught thousands of students around the globe. Currently he offers several online lesson programs via Skype.


01. Into The Unknown.
02. Dimensional Portal.
03. Out of Body.
04. Fabric of Space and Time.
05. Hyperspace.
06. Rip In The Continuum.
07. Curiosity.
08. Apparition.
09. Magnetic Anomaly.
10. Tipler's Cylinder.
11. Visiting An Alien World.
12. Interdimensional Travel.
13. Heightened Awareness.
14. On The Other Side.
15. Transcendental.


George Bellas - Guitar, Bass, Keyboards
Marco Minnemann - Drums



Written and Produced by George Bellas
Artwork by Andre Beckston (Monowasp)