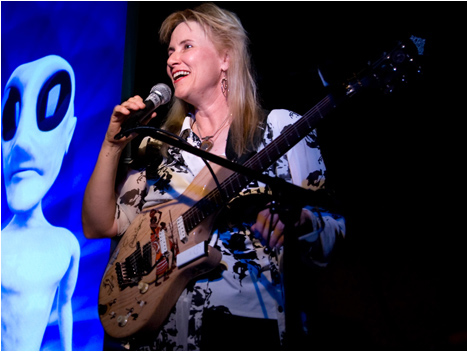 Lion Music is proud to present two re-releases from the world's most famous female guitarist Jennifer Batten in June 2008 – "Jennifer Batten - Above, Below & Beyond" and "Jennifer Batten's Tribal Rage – Momentum".
"Above, Below & Beyond" was Jennifer's debut solo album and saw her garner major press attention in the worlds leading guitar and rock press. Home to devastating technique, a unique touch and individuality the album is rightly regarded as one of the premier guitar instrumental offerings ever recorded.
Background Info
The buzz on Jennifer Batten rose from the guitar underground, and the guitar magazines promptly began chronicling her savvy musicianship and highly original approach to the electric guitar in print. At one point Batten was in 6 different bands, playing everything from straight ahead rock, to metal, fusion, and funk. A major turning point came when she was selected from over one hundred guitarists to play in Michael Jackson's highly skilled band which toured the world for one and a half years playing for over four and a half million people. Jennifer wasted no time after the "Bad" Tour's grand finale, diving into work on her own album with renowned producer (and Stevie Wonder guitarist) Michael Sembello. The stunning results can be heard on "Above, Below, and Beyond", the title appropriately describing the interesting diversity within. With this debut release, the world at large learned what all the excitement was about and despite being out of print and hard to obtain for a number of years is available once again via Lion Music.

On the album Jennifer comments, "Above, Below, and Beyond" was my debut record in which I explored a lot of different musical directions. I began recording this in the 80's when all the hair bands were raging, and guitar players were all concerned with speed and flash. Michael Sembello of the hit song "Maniac" fame produced it".


1) FLIGHT OF THE BUMBLEBEE was a classic chops challenge. I found a way to get much more speed than ever in the past by using both hands to fret notes instead of using a pick in the right hand. This track was a challenge for me more than anything else. I found some sheet music for it that my mother had laying around and learned it while experimenting with different fingerings.
2) YA AIN'T NOTHIN' LIKE A FAST CAR was written from a request from my producer to write something ZZ Top-ish for a car movie. It's faster than the average ZZ song but has that Southern boogie groove. I now call it a ZZ Top on crack song!
3) WANNA BE STARTIN' SOMETHIN' was inspired by my first Michael Jackson tour as that was the song we started every show with. I listened to his version of it intensely for a while, and heard so many details and care put into the production of it, I fell in love with it. My version is quite a departure from his.
4) RESPECT is the only real vocal tune on the record with vocals by raspy singer Michele Rohl. Although it's an Aretha Franklin cover song, again I changed it up quite a bit from it's original R and B flavor and made it rock and threw in some pyro for the solo.
5) CAT FIGHT is dedicated to Digitech's whammy pedal which was new at the time. I fell in love with the possibilities I could have with that pedal and found a way to make the guitar sound like an angry cat.
6) HEADBANGERS HAIRSPRAY is pure fusion meets metal. I wanted it to be as choppy and weird and challenging as possible. It's kind of Yngwie meets Zappa meets Vai track. It's a manic tune with no hope of ever being on radio.
7) WHAMMY DAMAGE found me using not one but two whammy pedals at the same time, which allowed me to jump several octaves with foot movement. It was a challenge to coordinate and I've only ever played it live once. It's a solo piece of tapping chops that requires sitting down!
8) SECRET LOVER is more of a hip hop groove with vocoder vocals by Michael Sembello. I used the whammy pedal to emulate a slide guitar in this snaky effort. This was also my first rap which I didn't like then or now :-)
9) VOO DOO is kind of a film like track written by the Sembello brothers. I loved the sound effects in the intro and took that inspiration through the rest of the track.
10) CRUZIN THE NILE is one of the only clean guitar tracks on this record. I wrote this as a solo piece and it ended up with some cool percussion that Sembello programmed, and the fantastic foreign vocal sample that adds so much to the ambiance of the track. I'm now performing this live with a lot of Egyptian imagery in the film that accompanies me.
11) TAR-ZENS DAY OFF reverts to many weekends filled with watching old Tarzen movies on television. It was such a different experience than the one I was growing up with, that I became engrossed and fascinated with it. The African drums especially added so much to the movie's feel, it stuck inside my DNA forever. I'm still trying to express the magic I felt from that world in the jungle.
12) GIANT STEPS is the John Coltrane tune which he wrote primarily as a study in chord progressions. It's a challenge for anyone. I played his solo for the jazz version of this song and then did a two hand tapping solo over a couple choruses of it. I also played this for my Michael Jackson audition.
13 MENTAL GRAFFITI is one of the most metal sounding tracks with a distorted wicked guitar groove teetering on a bed of wackiness and
humor.




» Jennifer is one of the highest profile guitarists in the world.
» 'Above, Below & Beyond' has been out of print for a number of years.
» Jennifer is currently running a tutorial column in Guitar Player magazine.
» Jennifer if available for interview, to arrange your publications, please contact promo@lionmusic.com