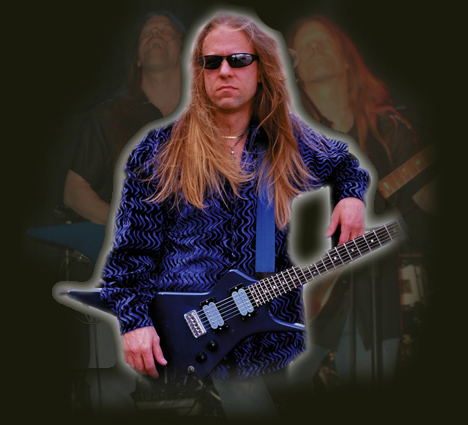 Michael Harris is one of the most acclaimed instrumental guitarists going thanks to a number of solo releases over the last 2 decades and his current prog metal band Thought Chamber. His 2006 Lion Music release "Orchestrate" received scorching reviews from media worldwide, so why has Michael decided to re-release his 1996 work "Ego Decimation Profile"
First of all, this release is a remixed, re-mastered, and repackaged version. Michael remixed and re-mastered the CD myself. On the remix and remastering Michael states, "EDP originally came out in the 90s, when a drier mix was in vogue, so one of my goals in remixing the record was to get a more ambient sound overall, (especially on the lead guitars and drums). My goals were also to get a better drum tone, to get a "rounder" sound overall, and to use the stereo field a bit more with things like stereo delays and panning".
Stylistically, "EDP" is a combination of metal, prog, funk, groove, and jazz fusion and is considered Harris' heaviest instrumental disc to date, as there is a running "metal" influence in all of the songs, although it does contain 3 of Michael's personal favourite slower numbers in "Grandscape", "Pawn to King IV", and "Terminus Epic". Melody and composition was Michael's primary focus on the CD. As progressive as it gets at times, Harris tried to never go too over the top with flashy solos or intricate parts. The album was also an open invitation to great musicianship from the other players and to achieve that many of the tracks were purposely composed with sections that had trade-offs.
On Michael's aim with the album he states, "It was to blend rock, prog, jazz fusion, groove, funk, and neo classical all with melody and lots of guitar. Other than the opening piece, "Forewarning", there are not a lot of keyboards on the record. My goal on any of my instrumental records is that the compositions are strong, the melodies are original and memorable, and that I'm not just showing how many notes I can play on guitar".

01) Forewarning – "Forewarning" was a compositional turning point for me. I envisioned composing a very heavy, progressive, and orchestrated piece, which I achieved with "FW", and I consider it my first "mini-symphony". Rob Stankiewicz played a great drum track and I played all the other instruments. For this remixed version, I actually re-recorded the steel string acoustic guitar intro with a nylon string. This was the only part on the whole record that I re-recorded.
02) Vicious Uppercut – Being heavy and fast with progressive touches, "Vicious" felt like a good follow up to "Forewarning" and set the tone for the disc.
03) Stratus-Fear – The theme to this piece was the chorus, which was based on a G#-E riff that I'd had sitting around for awhile which really blossomed when I thought of the melody on top of it. Then I wrote the progressive middle section which has a triplet feel.
04) Julius Seizure – Even before "Defense Mechanizms", I'd had a vision of fusing metal with jazz (my father being a jazz musician), and "Julius" really typified what I was trying to achieve. I also wanted to include a clean jazz break in a heavy tune, and patiently waited for the right inspiration for such a break to be included in this piece. Keith Carlock just smoked on this one. Although at the time he was relatively unknown, I'd recruited him based on his great reputation. As amazing as he was even back then, I don't think anyone could have predicted the success his future would bring. He eventually moved to NY and has since played with John Scofield, Steely Dan, and Sting.
05) Pawn to King IV – Based on counterpoint-esque and classical-esque melodies achieved with all volume swells, I haven't done a piece like this before or since. I'd had a demo stashed away for quite some time, so I refined it a bit, and it ended up being a nice dynamic for the record.
06) Grandscape – This sounded very soundtrack-esque – the melodies, feel, and lead guitar tone were most important to me. It's relatively simple and one of my favourites on the record.
07) Hair On the E String – This title is a take off of Bach's "Air On the G String". The song is not neo-classical however, but metal-esque with a main theme that is in lydian mode and a progressive midsection with great drumming from Rob.
08) Freudian Trip – I've enjoyed playing funk for years, and I'd consider "Freudian" to be a metal funk tune. Keith and David were right at home on this one and it was just plain fun.
9) Brainwarp - The heaviest tune on the record. I knew it would be perfect for Matt Thompson on drums. My middle solo starts with one of my favourite and most insane licks.
10) Terminus Epic - Definitely one of my faves on the record. I spent a lot of time arranging it. For quite awhile, I had wanted to compose a rapid solo or break that was all natural harmonics, which I did in this midsection, kind of a "song within a song".