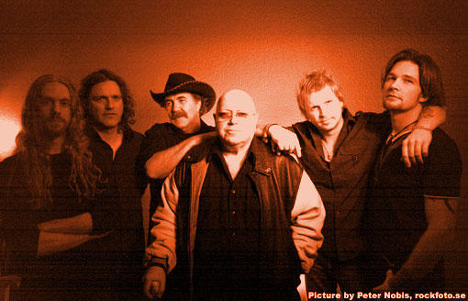 FROM BEHIND plays for the great masses, hungry for twin-guitar based songs, sung by one of Britain's leading rock vocalists; Nicky Moore and featuring Nazareth guitar legend Manny Charlton. Game Over will come as a a welcome relief to anyone longing for classic hard rock as it was meant to be heard and played
Nicky's CV is as long and impressing as the history of British rock itself. The former SAMSON front man, by some referred to as "the fat guy who replaced Bruce Dickinson", was in fact to large extent responsible for making Samson the British metal legend it still is today, putting the band to their highest chart positions during their career! After Samson disbanded he became part of Mammoth, literally the heaviest of all heavy metal bands, alongside John McCoy of Gillan fame. With a voice dripping with soul and emotion, his reputation as a great performer is up there with the likes of Paul Rodgers, Frankie Miller and Van Morrison. Currently touring with his own blues band, he's today as active as ever.
Manuel "Manny" Charlton, a living legend, who from the start in 1968 until 1989 was the guitar player, songwriter and producer in one of the biggest and loudest rock bands to roam the charts in the seventies, NAZARETH. The band gave the world hits as Love Hurts, Razamanaz, Hair Of The Dog, This Flight Tonight, and is still considered as one of the true giants of the era, cited as a major influence by everybody from Dimebag Darell to Axl Rose. Manny was also in charge of pre-production for Gun n´ Roses debut Appetite for Destruction. The Spanish Scotsman, now residing in Dallas, Texas, has released several solo albums, and also done a lot of production work since leaving Nazareth.
Andreas Grufstedt, Mikael Fässberg, Fredrik Borg and Carl-Michael "Hilton" Hildesjö have kept a high profile on the south Swedish music scene, playing with Jet Black Combo, Burning Engines and Confactor to name a few. Mikael and Andreas current occupation sees them backing former Iron Maiden vocalist Paul DiAnno while on his 2005-2006 tour.
Why the odd name?
Not even their manager knows for sure...Something to do with logistics maybe...
Why should you care...?
Because the songs are firmly rooted in a time when Rock was about reaching out to an audience, instead of your own bellybutton. A time when the Les Paul was king, and Singers we're allowed to sing... It's Good, Clean, and Mean Entertainment performed with Emotion and Pride.




» New rock outfit featuring two classic rock legends in Nicky Moore and Manny Charlton.
» Great range of music chronicalling 3 decades of rock music with a modern expression.
» Frpm Behind played a succesful set of Swewden Rock Festival..