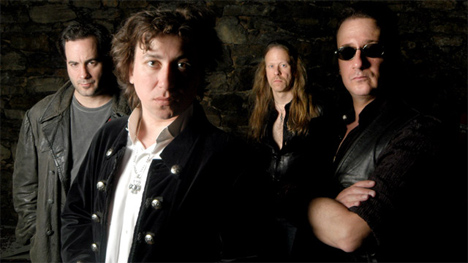 Ukrainian born Vitalij Kuprij is consistently at the top of keyboard player polls worldwide having been involved in some of the finest progressive/neo-classical albums of recent years from acts such as Artension and Ring Of Fire. In addition to these band works, Vitalij has had a very prolific solo output and his new solo album 'Glacial Inferno' marks his fifth solo adventure to date and second solo release on Lion Music following 2004's 'Forward & Beyond'. The new solo album sees an extremely powerful line up of Vitalij with Michael Harris on guitar, and the former Yngwie Malmsteen/Ark rhythm section of John Macaluso on drums and Randy Coven on bass.
'Glacial Inferno' offers up something truly special for Vitalij's legion of fans with a very innovative sound that has all the trademarks one expects; but also fresh elements coming into the Kuprij arsenal with fusing's of Vitalij's classical knowledge, progressive leanings, fusion and even folk. 'Glacial Inferno' is a very dynamic album that contrasts between heavy and mellow, straight virtuosic to very powerful and epic. On the album Vitalij comments, "The aim of the album was to express myself musically and compositionally in the best possible way to make my friends and fans enjoy it and relate to it, as well as to grow further as an artist and composer/instrumentalist and producer". Just one listen proves that Vitalij has succeeded in this aim.
'Glacial Inferno' is being released as a limited edition double pack of just 2000 units with Vitalij's latest band project release 'Revenge', which until now has been unavailable outside Asia. As with 'Glacial Inferno', 'Revenge' sees Vitalij team up with American guitarist Michael Harris who recently released the critically acclaimed 'Orchestrate' on Lion Music in 2006 to create a truly exciting musical pairing.
Vitalij Kuprij's Revenge is home to a wealth of neo-classical treats with an all star line up including vocalists Joe Lynn Turner (Rainbow, Yngwie Malmsteen, solo), Dougie White (Rainbow / Yngwie Malmsteen), Goran Edman (Yngwie Malmsteen / John Norum), Apollo Papathanasio (Time Requiem / Firewind), Chris Catena and Shaun Leahy. The solid rhythm foundations are again laid down by John Macaluso and Randy Coven (both ex Yngwie Malmsteen / Ark).
'Glacial Inferno and Revenge' is a must own release for fans of quality neo-classical metal as well the the more progressive leanings of Ring Of Fire and Artension making this limited edition double pack a truly prized release.






» Limited Edition double album run of 2000 units.
» Vitalij Kuprij is widely regarded as the world's leading metal keyboardist.
»All star assembly of backing musicians and vocalists from such popular acts as Rainbow, Yngwie Malmsteen, Artension, Ring Of Fire, Ark and Firewind.
» Vitalij is gaining increased visibility in the pure classical music field thanks to solo piano recitals at the world famous Carnegie Hall in addition to dates in Europe.
» Vitalij Kuprij was chosen by world leading flute virtuoso James Galway to provide piano on numerous live performances.