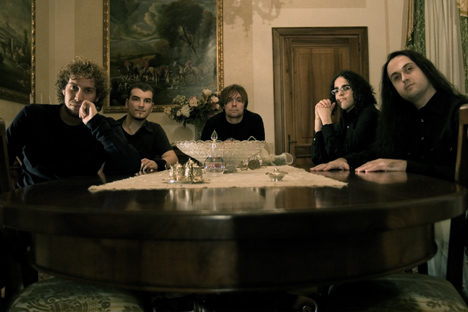 TWINSPIRITS is the latest step in Daniele Liverani's career. This band comes with the purpose of creating an experience that really can break through in the progressive music world! During his musical trips throughout the years Daniele discovered the suitable elements that could fit his design. Human engine Dario Ciccioni on drums, guitar prodigy Tommy Ermolli, bass talent Alberto Rigoni and the raw voice power singer Søren Adamsen alongside the virtuoso keyboard play of Liverani make an impressive package.
The debut TWINSPIRITS album "The Music That Will Heal The World" is rich progressive metal package full of melody and more accessible than many progressive metal albums. The attention to the song is evident right from the first listen yet there is more than enough virtuoso musicianship to keep even the most demanding progressive metal fanatic satisfied. Get ready to face the new Prog experience.
Brief Band Bio
It all started when Daniele met Dario rehearsing on his drums in a recording studio. The meeting gave shape to the three episodes of Daniele's Genius Rock Opera. Some years later, Daniele and Dario saw Tommy playing some Vai/Satriani tunes at a instrument trade show and decided to get in touch with this young (he was just 14!) talented guitar player. After a few months, the "core" was complete when the band chose Alberto (progressive bass player of Ascra, Dream Theater cover band). After many auditioned great singers of the international scene (including Gøran Edman, Terry Ilous and many others) they found the best matching voice in Søren Adamsen for his incredible versatility and powerful style. The result is Twinspirits.




» Twinspirits are a hot new accessible progressive metal talent.
» Daniele Liverani has a big profile and reputation for quality music.
» Twinspirits will be touring to support 'The Music That Will Heal The World'.
» Guitarist Tommy Ermolli at just 19 years old is one of the world hottest young guitar talents.