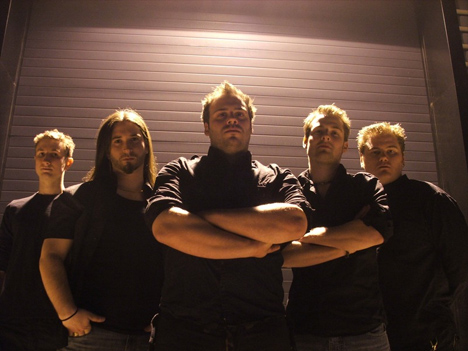 AWAKE are the UK's hottest new progressive metal talent. With a reputation which is already seeing them described by press as "The saviours of British progressive metal" and "The English Evergrey" the band are set to release their new album 'Illumination' on June 15th 2007.
Possessing a fresh modern sound that sees strong guitar riffs compliment powerful keyboard parts and melodic catchy vocal lines. 'Illumination' has a lot of light and shade with strong melodic ballads backing up heavy guitar driven songs. Yet with this diversity an original voice is heard, one which is likely to appeal to a large cross section of metal fans worldwide.
AWAKE started out in 2000 in Cambridge (UK) and until June 2006 were known as Humanity. Formed by the original six members Simon Shedwell, Steve Wallace, Richard Hall, Alex Townsend, Craig Burkitt and bassist Chris Le Mottee the band quickly gained a reputation on the local circuit for being a very professional and captivating live act despite then having an ave band age of 18. 2003 saw them hook up with Killin Time Mgmt which led to their first album 'When Silence Calls' being recorded by Peter Coleman (AC/DC, Paradise Lost, Napalm Death), the album was then released on Carbon 13 Records and received a solid 8/10 across the board from press.
After a UK tour and festival appearances at home and in Germany the label with into liquidation. Undeterred the band got on the 2005 Bloodstock Open Air bill where they would hook up with Swedish metal giants Everygrey a contact which would later bear fruit. The band then decided to go into the studio to record another album before looking for a new label. When it came to deciding where to record they went to the top of the list.
After meeting Evergrey Singer/Guitarist Tom Englund at BOA, Keith contacted Division One Studios in Gothenburg, Sweden with an aim to recording the new album there. Tom not only agreed to record but offered to produce the album and as vocalist Simon Shedwell said in a recent interview, "I tell you nothing is better than that!" - So in Spring 2006 Humanity were off to Sweden. Produced by Tom Englund and engineered by their own Arnold Lindburg, they recorded "Illumination" - an album of 11 exciting new tracks which sees them moving away from the progressive licks of the 1st album, to a more direct, heavier sound, much to the pleasure of the band. "We've all grown as musicians and songwriters and this is a much more commercial album" guitarist Richard Hall comments. With Tom contributing backing vocals and Evergrey guitarist Hendrik Danhage lending a solo to the track "Forgiven now forever."
Over the 8 months leading to recording the new album, relations with long-term guitarist Steve Wallace began to break down. In March of 2006, Steve was asked to leave the band… Humanity saw Steve's exit from the band as the right time for rebirth, which would become the theme for the new album. By changing their name and continuing on as a five piece, they would start afresh. Now known as AWAKE, 2007 promises to be an exciting year for the band, keep an eye out.



» Promotional video for 'Disbelief' already produced.
» A fresh new metal talent from the UK with the potential for wide cross over appeal.
» Live dates in UK and across Europe in support of 'Illumination'.
»Reviews in all leading rock/metal press with album showcases and advert at select elite websites.