Italian progressive metal outfit Ashent return with their third album "Inheritance" out 21 September 2012 on Lion Music.



For every musician the composition of their third work is considered a milestone: a demonstration of maturity and confirmation. In the case of Ashent this moment also represents the natural conclusion of an intense period of changes and contradictions for the band.
After the release of 2009's "Deconstructive" (Lion Music), an album that gave the band great satisfaction on a personal and commercial level, they felt a strong need to experiment with different solutions through a renewed language that could express the changes taking place in their lives for their third release. This ultimately led to changes in the bands ranks with the announcement coming at the end of 2010 that they had officially started on the pre-production of "Inheritance" with the unveiling of three new members in lead vocalist Titta Tani (Goblin, Daemonia, ex-Necrophagia, ex-DGM), Gilles Boscolo on keyboards and Alessandro Cossu on second guitar.
The band has always held the idea and the will of renewing itself, defining its own style outside the boundaries of well-known tested models. Using typical and classical 70's instruments like mellotron, hammond and sax, the songs are enriched by unconventional atmosphere; every single note is used to create a very personal sound. "Inheritance" stands out as a further step of change in the background of the band, with a sound fortified by neo-prog contaminations on the typical Ashent sound. Fused together you can find a very technical rhythm section played by Gianpaolo Falanga (Bass) and Davide Buso (Drums) with synth and keyboard played by Gilles Boscolo and multi-tasked guitar sections (by Onofrio Falanga and Alessandro Cossu) on airy melodies whilst the stunning voice of Titta Tani sings dramatic and catchy vocal parts.


In the music of "Inheritance" you can find Cynic's rhythmical virtuosity, progressive music in the vein of early Pain Of Salvation, atmospheric soundscapes of Devin Townsend and vocal parts inspired by Queen. These elements when mixed together create a very unique style and modern sound. The album is comprised by 11 tracks: 9 vocal and 2 instrumental episodes.
Gianpaolo Falanga comments,
"Our love for music comes from this basic necessity to evolve. We haven't produced "Flaws of Elation 2" and we will not give light to "Deconstructive 2". The will to evolve our sound and raise the quality of our music drove us to approach the compositions in a more mature way. We dedicated a lot of time searching for the right direction in order to satisfy all of us. The new songs on "Inheritance" are very different from the ones in "Deconstructive": keyboards are dominant in the new material and we created brand-new sounds, updating and changing them continuously to reach the right quality we're looking for. It's a very big sound with the use of sequencers, synths, and some sax inserts. You will find orchestral parts, choirs, electronic moods or fusion solos in the same song. The vocals also follow a completely new approach. Titta's versatility and interpretation give the new tracks a fresh and thrilling feel. We focused our attention on the musicality of the whole song, trying to give more emotion to every passage with a more refined and effective way of playing".
Undoubtedly Deconstructive led the band to be considered one of the most interesting new coming European metal bands, due to an enthusiastic response of critics and a large fan-base fond of the band. Lion Music Top Seller's band, almost 500,000 plays on their official Myspace page, excellent ratings by dozens of magazines and web-zines through Europe and the band are set for this success to continue with the release of "Inheritance".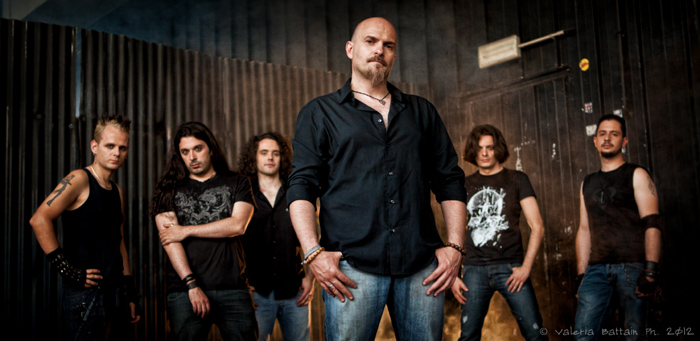 01. Eve.
02. Magnification Of A Daydream.
03. Shipwrecked Affair.
04. Fractural.
05. Spider's Nest.
06. Renaissance.
07. The Starving Litany.
08. Confessions Of Reimman.
09. La Danzatrice Scalza.
10. The Defiant Boundary.
11. Labyrinthique.


Titta Tani – Vocals and Choirs
Onofrio Falanga – Guitars & b. vocals.
Gianpaolo Falanga - Bass guitar
Gilles Boscolo – Keyboards & Programming, Saxophone
Alessandro Cossu – Guitars.
Davide Buso – Drums and percussions.



LMC331
EAN6419922003312



www.ashent.net
www.facebook.com/Ashentband
www.youtube.com/user/ASHENTBAND
www.myspace.com/ashentband