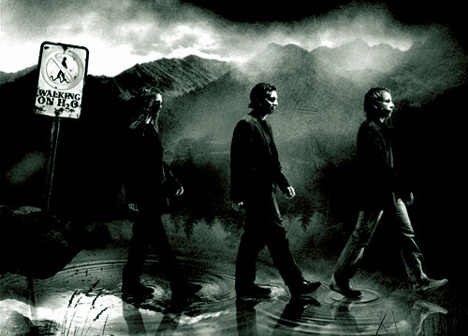 Mind's Eye are back with their first new studio album in 4 years and there best yet in 'Walking On h2o". The album sees the band taking a huge leap forward in the song-writing department with each song being carefully arranged and perfectly balanced to fit the theme of the album.
Walking On h2o is a concept piece and confronts the bands thoughts on Human evolution, Science, Religion, Unexplained phenomena, Alien abduction, deadly virus, earth pollution, loyalty, marriage and Immortality. The aim and reached goal was a cinematic rock album with songs that where individually so strong that they could stand their own ground if served as singles, fitting anyway the concept of the album. Great choruses covered with crystal clear production making sure that Mind's Eye are here to stay for lots of years to come.
The music is still progressive but not in a technical level. Instead Mind's Eye rather shows their strength as songwriters, still using melodies and hooks as their strongest weapons. This time also providing them with the right amount of production goodies the band always lacked to some extent previously. Walking On h2o is a variety of symphonic, progressive music, mixing it with classic hard rock tunes and softer songs fully packed with string arrangements and big lush vocal harmonies taking the listener back to the days of songs with big chorus and hooks you'll be instantly singing to. Even though the song is the bands focal point there is still lot's of chops from both guitarist/bass player Johan Niemann and drummer Daniel Flores to go around.
Songs like "A rabbit in the hat" and "Equally Immortal" shows the bands great chorus hooks, while songs like "Sahara in an hourglass", "The Nazca lines", "Mrs. Clair Voyance" and "Heal my karma" shows the bands super strength in writing symphonic and progressive songs. The band also shows their stamina and brain power with their second ever recorded instrumental song "Flight of the An.unna.ki" showing what the band is fully capable of with their instruments. On the heavier side you have songs like "Sacred rules" and "Out of my system" showing that the band is capable of making heavier epic songs with modern sound. The 70's are also represented here when the song "Umbrellas under the sun" appears out of nowhere reminding you that bands like E.L.O. and Queen are still a huge influence on the band. Last but not least you have the two last songs "When I whisper" a song with only orchestral arrangements and vocals, proving Andreas Novak can sing with so much feeling it will give you tears to your eyes, and "Poseidon says" which is 11 minutes long, the epic and ending song on the album about one persons fight to survive his deadly cancer, his whish to be immortal and to walk on water, sailing off to ask the old Greek mythology god "Poseidon" for help.
Band Information
Mind's Eye is a fulltime band with hard working members. Each member being a full time session musician, recording with bands around the globe. Andreas Novak (Lead vocals) released his first solo album on MTM 2005, receiving amazing response around the world. Johan Niemann (Bass/Guitars) plays the bass and writes songs together with his brother for one of "Nuclear Blast"" best selling band "Therion", constantly touring around the world. Daniel Flores (Drums, keyboards and vocals) is one of Sweden's most hired drummers when it comes to Metal, progressive rock, AoR and Fusion sessions, recording on over 50 albums proving he is one of Sweden's hottest up and coming drummers of today's modern art drumming. Today after the loss of former Guitarist Fredrik G, Mind's Eye sees more possibilities than ever before with newfound label LION MUSIC, they would like to invite you to an Audio/picture about us "Homosapiens" and what we do to ruin this planet. You are welcome to try these waters. Here is the new Mind's Eye album and they are "Walking on h2o".



» Stunning return from Swedish prog rockers Mind's Eye, superb song craft and production.
» All artwork by Mattias Noren.
» Daniel Flores is one of the most in demand session musicians in Europe.
» Johan Niemann is bassist in Therion.