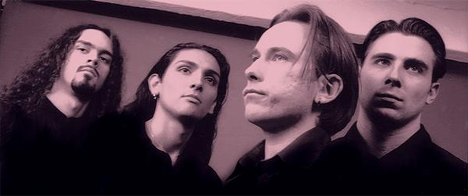 Lion Music are proud to announce the re-release of the second Mind's Eye album 'Waiting For The Tide' with 2 new bonus tracks from the bands archives. The album predates the worldwide critically acclaimed 'Walking On H2O' (released Jan 2006 – Lion Music)', by some four years and is the second Mind's Eye re-release on Lion Music following 'A Work Of Art' (re-released in 2005)'.
'Waiting For The Tide' was initially released in 2000 and received critical praise back then due to its different approach to progressive rock, sounding unlike anything else at the time with the bands trademark melody and depth. The album has long been out of print. Lyrically the album reflects on actual happenings in the bands life and has a deep and profound content. Some of the bands favourite tracks from the album are "Frozen Tears" a song about homeless people, "Calling (father to son)" a song about a bad relationship between father and son, The two part song "Closer" and "In My Mind" about a bad repeating dream, "Primitive Light" about racism and "Circles In The Sand" about a person who runs away from home.
The album is also home to a Mind's Eye's bonus instrumental track, "Spellbound" which shows how much the band wanted to achieve success in this business. Just listen to the playing, Daniel and Fredrik where 19 years back then and Johan was only 17!
The bands aim when making the album was to make a marriage between melody and aggressiveness. Bringing in technical, polyrhythmic playing with unforgettable melodies with deep lyrics the sound is uniquely Mind's Eye.
'Waiting For The Tide' gives a great insight into the early development on Mind's Eye and is essential listening for any prog rock fan. The band are currently working on a new album for Lion Music.




» Long out of print re-release from Swedish prog rockers Mind's Eye, superb song craft and production.
» All artwork by Mattias Noren.
» Daniel Flores is one of the most in demand session musicians in Europe.
» Johan Niemann is bassist in Therion.