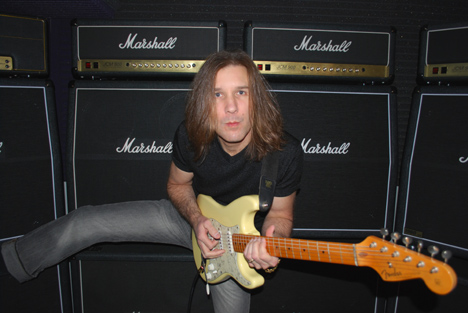 Palace Terrace is a progressive and neoclassical rock band with a theatrical and modern edge. Their music combines superb musicianship, beautifully crafted melodies, unique harmonic progressions, compelling stories, counterpoint, large orchestrations, wide dynamics, odd meters, stunning vocal arrangements and elaborate forms.
Palace Terrace was formed when composer and world renowned guitarist virtuoso George Bellas [ex Ring Of Fire, ex Mogg/Way] contacted Tenor Vocalist Jonathan R Marshall and invited him to fill the main vocalist spot in the band. The two discussed how they would like to see the band debut as well as evolve into the future. Sharing very similar visions the two began writing their first album "Flying Through Infinity". The search for an extraordinary percussionist was much of a concern for George and was a long but fruitful ambition when he finally discovered the prolific talents of Percussionist Sasha Horn.
"Flying Through Infinity" is a combination of progressive and neoclassical styles. The music contains extensive odd meters (with one section in 99/32 time), melodic vocal lines sung by John Marshall and rich vocal harmonies sung by George Bellas, along with big orchestrations and guitar solos that are drenched in feeling. The album is filled with a very wide dynamic range. Some of the vocal arrangements were written in strict 4 part counterpoint and others using imitative counterpoint. The album is very diverse in different types of songs, it contains progressive songs, neoclassical and even simple commercial structures.
On the album's concept George Bellas states, "The essence of the album is about the journey of a soul travelling through the infinite universe and other dimensions within it. The story is really about all of us here on Earth and the wonder of what happens after we're gone. The spirit in the story is just a character that represents any one of us... wondering who we are, will we find loved ones on "the other side", feeling the need to complete unfinished business after we pass away... The soul's journey includes visiting loved ones on earth and reflecting on cherished memories all the while searching for its way to eternal peace and trying to find its ultimate purpose. At the end of the story the spirit finally finds inner peace, its ultimate purpose and a place to call home".
This album is characterized by George's strong penchant for his unique and well defined composing style, as showcased in his previous releases, but differs from previous releases in that this is not an instrumental album, but rather a vocal based album. George debuts his vocal composing and arranging abilities as being strong and unique, evident with his inclusion of not just single melodic lines or stacked harmonies, but with his well versed ability to compose in a strict classical 4-part chorale style.




» George Bellas is one of the world's most respected virtuoso guitarists.
» Palace Terrace serve up a highly original form of neo-classical metal.
» Reviews at all leading rock metal sites/publications.
» George Bellas can produce custom radio station ID's for your station and websites.
» George Bellas is available for interview – email contact: promo@lionmusic.com