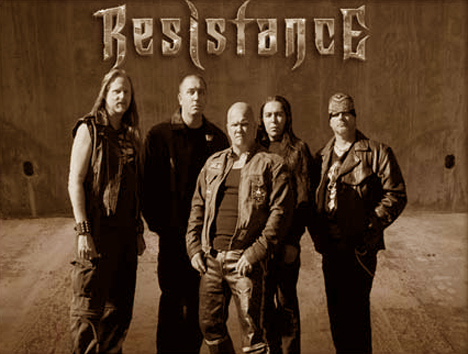 American metallers RESISTANCE return with energetic metal fury on their second full album 'PATENTS OF CONTROL'. Following on from their acclaimed debut 'Lies In Black' the band have recorded 11 tracks which see the band honing their sound with a tighter, heavier and more focused direction and intensity which has been gained from countless live performances on the US live circuit. 'PATENTS OF CONTROL' also marks the debut of new guitarist Dave Watson appearing on album with the band.
'PATENTS OF CONTROL' is the story of one mans obsession to provide humanity with the ideal society. Free of crime, Hunger, Poverty, Drug Addiction and Misery. The lyrical concept focuses on the idea of thought and behaviour control through the use of devices that have actual United States patents. It further deals with the idea of world illuminati using this information to create a new world order.
Musically 'PATENTS OF CONTROL' is a progression from the debut concentrating on big hooky vocal melodies and background vocals which may remind the listener of bands such as Iced Earth. The individual performances on the album hold true to the Resistance sound. Musically the album is diverse with dark undertones. The band has created memorable choruses as well making each song stand out on its own within the concept. With the making of the album the bands goal was to push their creative abilities as far as possible and write an album that they, as listeners, would buy and enjoy.
'PATENTS OF CONTROL' sees Resistance honing their blend of traditional metal with thrash influences to brutal perfection.



» 'Patents Of Control' see Resistance refine their sound with superb production and songs.
» Intelligent metal reminiscent of Iced Earth and '…And Justice' era Metallica.
» Resistance are one of the hottest talents on the LA metal scene gaining many of the most sought after support slots going.
» Album mixed by Neil Kernon (Queensrÿche/Nevermore)