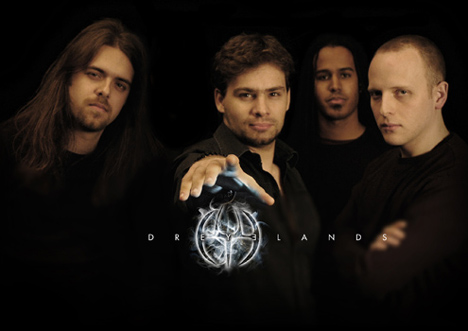 Dreyelands are a melodic progressive metal band from Hungary. Their debut album 'Rooms Of Revelation' showcases the bands versatile attitude for music being a tasty mixture of the metallic and the melodic side of progressive and power metal, combined with a touch of 80s AOR/hard rock music.
The songs are powered by heavy guitar riffs fused with ultra melodic, memorable vocal themes along with clever arrangements. Sonically the album is big, modern and natural with no triggers on the drums and live string arrangements etc. The first half of the album has the lighter songs and as the listener gets nearer to the end they are increasingly heavier and darker.
Lyrically 'Rooms of Revelation' depicts a journey in a schizophrenic mind. The story is about a man that is loosing all his loves and at the end, his life as well. Our protagonist has a cruel fate: every woman, he is conceiving passion for, are disappearing after the first fulfilment of their love. Haunted by the pain of loss, he begins a journey in an imaginary house, where he finds more and more clues about what happened to his subjects of love. It turns out that all his loves were killed.
Progressing with the story, we will realize that the killer is the dark side of his split personality, brought to life by the protagonist itself. Being always afraid that the first heavenly flames are dying out, this killer is his remedy for the fear of what will come after the first fulfilment of love. As the journey continues, the killer is coming more and more to the fore, to make the decision to die together in the last song.
After forming in 2003 Dreyelands recorded their first release, a promotional EP titled 'Can't Hide Away' (released in 2007). There was also a music video made for the title song of the EP. This video was featured several times on the Headbanger's Ball program of MTV Hungary with the EP receiving great feedback from not only Hungarian but also international press.
During 2007 the band finished the song writing for the debut album 'Rooms of Revelation' which was recorded in several studios in Hungary and Serbia in 2008 and mixed/mastered by well known Hungarian producer / engineer Barnabás Hidasi at HL-Studio in 2009. After the recordings keyboardist Zoltán Kas left the band. For future promotion work and live gigs the band is completed by György Nagy (Age of Nemesis) as a session member.
After hearing the band Lion Music was blown away with the quality of material on offer and a deal was finalised in September 2009.
Dreyelands serve up a fresh yet classic sound in the melodic progressive metal genre and 'Rooms Of Revelation' opens its doors to the public on April 17 2010.




• Dreyelands perform great vocal led melodic progressive metal which is both accessible and exceptionally well played.
• Dreyelands have built up a considerable following on the underground metal scene that are eager for their album debut.
• Reviews in all leading rock/metal printed/electronic media.
• Dreyelands are available for interview, and for radio station ID's. Please send your requests to promo@lionmusic.com