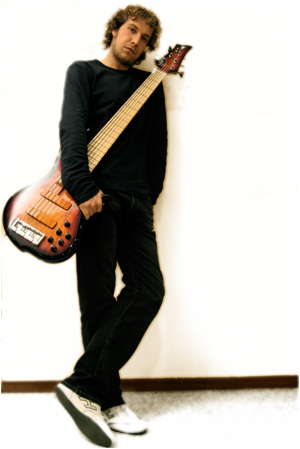 "Something Different" is Alberto Region's debut solo album. Comprising of ten tracks, eight of which arranged as instruments and two of them with vocals showcase one of today's hottest bass players in a variety of musical climates away from his work with progressive metallers Twinspirits.
"Something Different" features on one side of its character the extreme variety of the tunes, on the other side the union of experimental research with the comeback of melody. Progressive, funky, rock, fusion, ambient suggestions blend in an original poetical mix that frees from any defined genre and turns out to be immediately catchy release to every kind of listener.
The CD features appearances by guests such as guitar players Tommy Ermolli (Twinspirits/Khymera) and Daniele Gottardo. "Something Different" has already been successfully broadcast by the Italian national radio channel RAI Radio 3 along with an interview with Alberto already prior to its press and public release.
On the album Alberto comments, "I wanted to compose a solo-oriented album, without following any scheme, rule or trend, but I kept myself open to various musical genres and I invited some musicians friends of mine, to collaborate in this project. Although I am in a progressive rock band, in my album I tried to reach a freer and more poetic musical expression that matched to my melodic sensitivity. I therefore think that the album is accessible and can be appreciated by every kind of listener and not just by bass players".
"Something Different" represents a different side from a multi faceted musician.



» Alberto Rigoni is the bass player of the one of 2007's hottest new prog metal bands Twinspirits.
» Something Different's eclectic variety of music is both accessible and catchy.
» Alberto is available for radio interview with Italian, and email interview in English or Italian. To arrange your publications contact promo@lionmusic.com
» Reviews in all relevant press – both printed and online.