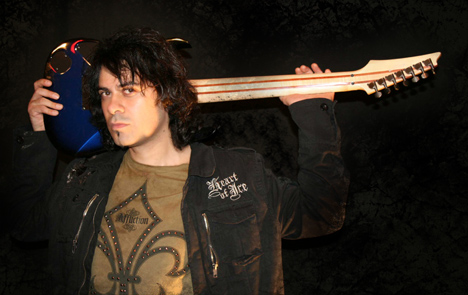 Tony Hernando – one of Europe's leading instrumental guitarists presents the stunning Live DVD and CD package "THIII Live!". The collection features live concert footage, new songs, a documentary and much more!
The live performance DVD side of "THIII Live" features Tony Hernando and drum legend Mike Terrana (Malmsteen / Axel Rudi Pell / Artension) at their best backed up by the awesome Chema Herrero on Rhythm guitar, Toni Ferrer on Bass and Boris Dimitrov on Keyboards. The DVD was recorded in Bilbao, Spain in 2005.
The CD side of the package contains alternative songs from different live performances from the DVD, as well as new mixes and new compositions, which making this a great extra.
Guesting on the new studio material alongside Tony Hernando (all guitars, bass on tracks 12, 13, vocals on track 13) is Mike Terrana (Drums on tracks 10,11),Vitalij Kuprij (Keyboards on track 11), Pepe Bao (Bass on tracks 10,11),Victor Diez (Keyboards on track 10) and Gerald Kloos (Drums on tracks 12, 13).


Tony Hernando
Actual Events

Tony Hernando
III