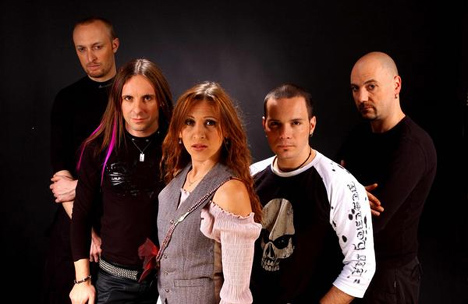 VENTURIA are a new classic prog metal sensation hailing from France with their music being a mix of metal, clean pop-melodies, technical progressive rock and high virtuosity. The band has already gained a reputation in France as being "the future of metal".
The music on "The New Kingdom" is a filtered blend of the bands influences with the final product unique to VENTURIA. This sound offers something for everyone from the heavy, to the pop influences. The progressive side and high-virtuosity will please all the musicians, and both male and female fans will be able to relate to Venturia's very talented and beautiful female singer. All these things mixed together make VENTURIA different from the norm.
VENTURIA was formed in 2000 by French guitarist CHARLY SAHONA and drummer DIEGO RAPACCHIETTI, who had already made a name for himself through his great playing with artists like Zero, Paganini and BPM. Charly had previously worked with various French artists and participated on the Shawn Lane tribute record "Shawn Lane Remembered", released on Lion Music. Bass player THOMAS JAMES later joined the band and added his versatile talents to VENTURIA's music. Male vocalist MARC FERREIRA is a solo artist from New York who shares vocal lines with VENTURIA's female vocalist LYDIE ROBIN. The pop/rock-like singing of Marc (reminiscing that of Savage Garden vocalist Darren Hayes) contrasts with the pure, clean and sensual female voice of Lydie Robin, creating a fantastic blend of aggressive and melodic vocal duet lines. To complete the line-up, KEVIN CODFERT (voted best keyboardist of the year 2004 for the magazine "Castle of Pagan" for his playing with the band Adagio) was invited to share the guitar/keyboards parts with Charly on the record. Kevin appears as a guest artist in VENTURIA.
In late 2005 VENTURIA signed a management deal with Danish based metal agency Intromental, and shortly afterwards a deal with Lion Music for the release of "The New Kingdom" was in place, with a release date set for April 21st 2006.
The New Kingdom is set to herald a new era for French Progressive Metal with Venturia being the band at the front of this movement.



• Venturia is one of the leading progressive metal bands hailing from France.
• CD reviews and showcases in all relevant magazines/websites.
• Online CD showcases at selected elite websites.