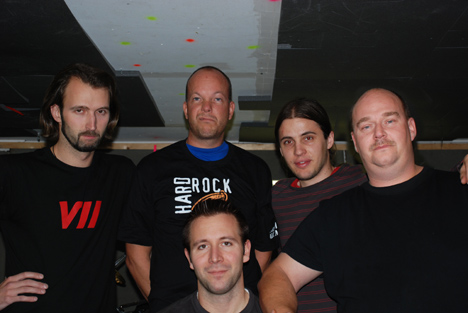 VII Gates are a classic metal outfit hailing from Sweden who add a new dimension to the genre with the infusion of modern day power metal elements creating a nice blend between the two eras of metal.
Their debut album "Fire, Walk With Me" (2004, Sound Riot Records) received strong critical acclaim with writers praising the bands mix of classic metal values with modern day inflections. Their new album and debut release on Lion Music, "In Hoc Signo Vinces" (in this you will conquer) sees the band pushing this element further yet all the while keeping a consistent flow to the music and bands trademark sound.
The guitar work of JJ Rockford and Robert Makek leaves a rich musical backdrop for the crisp vocals of Criss Blackburn to deliver many moods. Underpinned by the dynamic rhythm section of drummer Mick Van Slowfoot and new bassist Nicola Posa; VII Gates deliver metal that will appeal to fans of classic metal and the modern day power metal movement.
On the album JJ Rockford comments, "When we released our first album "Fire, walk with me", the reviews where incredibly good. People really seemed to like how we took classic heavy metal and added a few new elements here and there. So, for this album, we tried to take this process even further. So the songs will sometimes have very dramatic changes, you will never know what will happen next. But still we managed to keep a flow, it still sounds like relatively normal songs in a traditional sense. In VII Gates, there is always a steady foundation of a very classic hard rock/heavy metal sound at the base. But above that basic layer it's more open this time around".
"The titles of all the lyrics probably sound like typical heavy metal titles. But behind them, you will only find stories of two general subjects. First, usual horror movie/books subjects. Or secondly, stories about bad marriages or the lust to live your own life, free from conventional relationships. Most of the tracks are more intricate and also a bit longer than on our debut but not at the expense of quality. New bassist Nicola Pasa definitely helped make the songs feel more alive, through some really carefully prepared bass playing. Guest keyboardist Tim Diaz also had more freedom this time. It's still the basic instruments and the strong songs which are doing the main work, but the keyboards really added an extra dimension to the songs".




• 4 years after their critically acclaimed debut album VII Gates are back with an even stronger album.
• Reviews in all leading rock/metal press.
• JJ Rockford is available for interview via phone or email. To arrange yours contact promo@lionmusic.com