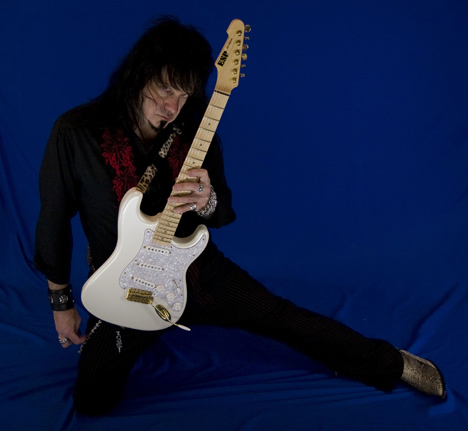 Joe Stump is one of the most intense and over the top guitarists on the planet. His maniacal guitar driven releases are amazing displays of power and jaw dropping technical command. He was named by Guitar One Magazine as one of the ten fastest shredders of all time and by Guitarist as one of the top 20 shredders of all time. The American guitar hero returns with his most diverse and complete solo effort to date with "Virtuostic Vendetta". Not only a killer shred record but also a great all around guitar driven release, blending neo-classical speed metal, European influenced shred and old school hard rock into a great combination of playing and tracks that will appeal to a wide range of guitar enthusiasts and metal fans worldwide.
Great melodies, killer riffs and from the heart emotionally drenched playing are combined with all the insane shredding you'd expect making this the most exciting record of Joe's career. Proclaimed by many music experts as the ultimate guitar monster you'll hear why words like Godlike, shred master, brilliant and many more have been used to describe the Shredlord's unparalleled playing style.
On the album's new material Joe comments, "On this record I kind of went back and re-introduced myself to myself. Two of my early albums "Guitar Dominance" and "Supersonic Shred Machine" were real favourites among my fans, and this new record is quite similar in that it's fairly diverse with a cool mixture of tunes stylistically, but it all has my stamp on it. I'd like to think it's my best overall effort as every aspect of this record is better than anything I've ever done, playing wise, guitar tones, compositions, production it's all steps beyond any of my past releases . It's also a very entertaining and listenable record considering there are no vocals".
A strong Ritchie Blackmore vibe is prevalent on this release, indeed inspiring one track title "Blackmore's Boogie" as well as an original ode to the Rainbow classic "Gates If Babylon" in "The Dance of Kashani". To his credit Joe doesn't shy away from hiding his influences, "I never claimed to be re-inventing the wheel. I just take the great influence of all my heroes Blackmore, Yngwie, Bach, Vivaldi, Gary Moore, Jimi Hendrix, Uli Jon Roth, Schenker, Paganini and try to craft my own thing with it. I love guitar and I always try to make records that guitar fans and hard rock/metal fans will love as well". Yet there is more on offer than the neo-classical influence such as "Old School Throwdown" which is a nod to players such as Hendrix, Frank Marino and Robin Trower. Joe also throws down thanks to his influences with the use of subtle phrases from well known classics which the keen ear will spot in a few places.
"Virtuostic Vendetta" sees a guitarist in Joe Stump who survived the changed musical landscapes of the 1990's with his career and reputation intact and sees Joe 16 years on from his debut album "Guitar Dominance" in the strongest shape yet

Chasing the Dragon
A fast classically influenced speed metal opus. I always have at least one or two of these types of tracks on all my solo records. It contains some cool European power metal riffage, a very strong melody and a bunch of inspired neo-classical playing.
Pistol Whipped
A very heavy track, blending more thrash metal and heavier elements with some sinister melodic playing and European shredding.
The Dance of Kashani
An epic style eastern style piece, my ode to Rainbow's "Gates of Babylon" if you will. Ritchie Blackmore's one of my biggest influences guitar-wise and I`m channelling quite abit of his vibe on this track.
Fire and Brimstone
An Yngwie/Bach/Paganini inspired neo-classical barnburner. I've had tunes of this type on my other records but this one could be the pinnacle of my neo-classical playing. There`s a few tips of the hat to Yngwie's classic "Far Beyond the Sun" in there as well.
The Beacon
One of the strongest ballads I`ve ever composed, a very Gary Moore-ish inspired tune. The melody is really nice and I was very locked in and inspired when I recorded the long outro solo.
Blackmore`s Boogie
The title says it all, a full-on, balls out Blackmore induced fret-fryer, taking many of the ideas and techniques I've gotten thru listening to Ritchie and putting my own spin on them. His great influence on me can be heard quite evidently all over this record on many of the tracks. What can I say you can't get any cooler than RB.
Old School Throwdown
This one's of course all about my Jimi influence with some Robin Trower and Frank Marino thrown in as well. I love those guys and that type of playing. A lot of people aren`t aware of this side of my playing but I always have at least a few retro-types of thing on my records.
Allegro #2 in A Minor
Another classically influenced track containing some fairly intricate playing and Paganini influenced arpeggios, with a cool heavy Phrygian section at the end that`s got some fairly evil riffage going.
Trigger Happy
I don't know where this one came from imagine Billy Gibbons and Blackmore after quite a few espressos.
Symphonic Pandemonium
A solo type of violin style classically influenced piece. The guitar is taking the part of the lead violin and the orchestrated parts accompany it.
The Witching Hour
A dark, evil, gothic tune with a sininster haunting melody, the title speaks for itself. I love playing over these types of tracks. One of my favourite Yngwie tunes is "Black Star", that first Rising Force record still remains the benchmark of that type of playing and he's still the king . I`m obviously channelling that and there's a small quote from the actual Black Star solo in the solo outro section.
Strat Sorcery
When people hear this tune they'll immediately think Hendrix, you know "Little Wing", "Axis Bold As Love", "Castles Made of Sand" etc. And I am dipping into those Jimi chordal ideas, but the main influence of this tune is from the Blackmore classic "Catch the Rainbow". I`m drawing heavily from that on the extended outro solo and many other section of the tune.



• Eighth solo album from one of rock/metals leading guitar authorities.
• Joe Stump is the metal specialist/shred guru at the world re-known Berklee College of Music, USA. As" professor of metal" his former students include guitarists from Firewind, Anthrax, Killswitch Engage and Diecast.
• Named by Guitar One Magazine as one of the ten fastest shredders of all time and by Guitarist magazine as one of the top 20 shredders of all time.
• Joe regularly tours over the USA, Asia and Europe delivering solo concerts and clinics as well as those with his bands Reign Of Terror and Holy Hell.
• Joe Stump has a frenzied and hardcore following worldwide.