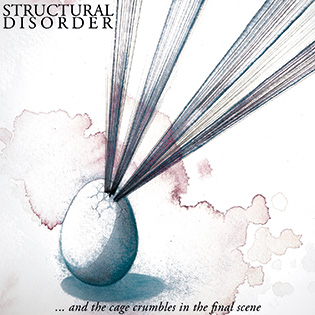 Structural Disorder - ...And The Cage Crumbles In The Final Scene


- Please describe the new album musically and lyrically?
"...And The Cage Crumbles In The Final Scene" is heavier and darker than its predecessor DISTANCE. It is a concept album in the sense that the songs are tied together by a loose connection. Combined together, this is a mirror image of the present, ending in a vision of revolution.
All live photos by Conny Myrberg (artrock.se)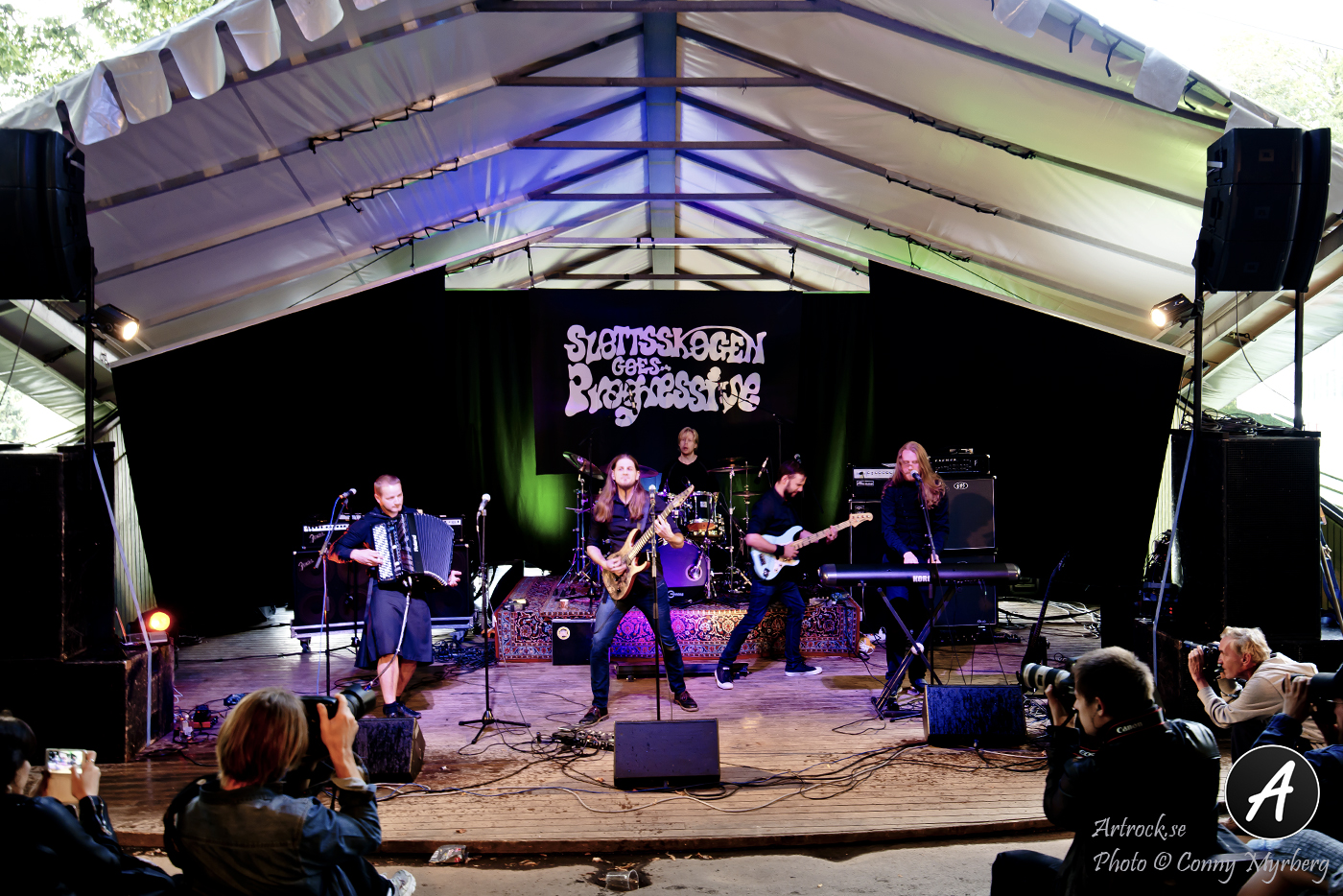 - If you had to choose one artist (I know this is hard) but if we had to say "recommended for fans of XXXX" who would that be?

Haken.

- How does it differ from previous recordings?

When DISTANCE (2016) was recorded, we already had an album behind us, and a lot of lessons learnt from it, so we went into the process with a detailed plan of when songwriting, arrangement and preproduction all had to be finished. We also wrote more music than we intended to use, so we had a 'kill your darlings' day when we met and decided on the final songs to make it onto the album.

For the new one, the process was a bit more relaxed. We met up early 2017 after a short hiatus, to talk about the next step, and someone said 'Hey, we're recording an album this summer, right?' and we all just kind of went with it. We had enough material already written, either from the DISTANCE writing sessions or written after its release 2016, and so we just had to finalize arrangements and make preproductions. We also knew how great it was to work with Jocke Skog, so of course we contacted him immediately after our band meeting to make sure to have him recording and mixing this one as well.

- What was the goal with making this album?

Our goal with this album was to explore the heavier and darker side of our sound which we introduced on our first album. By focusing on our heavier and darker sound, as opposed to our previous album where we explored more of our progressive rock side, we are able to introduce a well represented view on what we are all about when putting these three albums together. The representation of Structural Disorder in its entirety would not have been complete without this album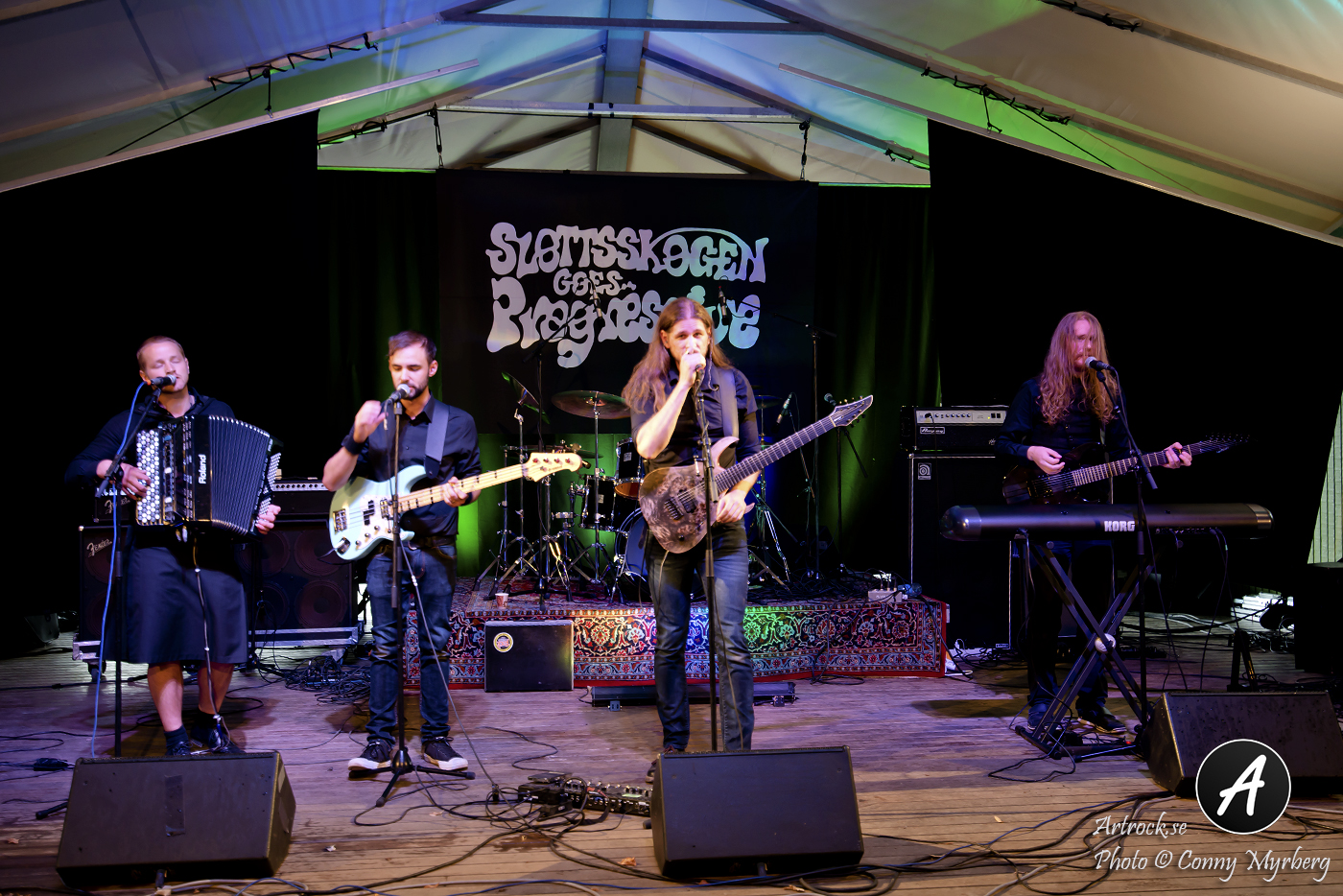 - Please tell me something about each of the tracks on the album

INSIDE is the prologue to the album, giving a soft beginning and setting the stage lyrically for the songs to come.

THE FOOL WHO WOULD BE KING is a track that Erik had been working (musically) on for a while - but, with that being said it was not nearly finished when the band recorded DISTANCE. Musically it goes from being this epic and pretty aggressive tune to being a cabaret tune… and then it returns right back at the epic and angry riffing again, only to take a left turn and end up in a more mellow part before ending aggressively again!

Erik and Markus co-operated on the lyrics for this one, where Erik wrote most of the first part (the cabaret section and the chorus) and Markus contributed with the more aggressive sections along with the mellow bridge.

DROWNING is one of the oldest tracks on the album. It has been 99.8 percent done for years - but it has always felt as if something is missing. When we were preparing the tracks for this album, Johannes re-arranged a few parts in term of length and whatnot and also re-wrote the vocal melodies and the lyrics. Then we brought the song back to the rehearsal space and re-wrote one of the riffs, which turned out to be the missing piece of the puzzle. In a way, it shows that some songs need to get a bit of extra time to mature.

NINE LIES is a really heavy and, honestly quite odd and a bit unpleasant and eerie track. The opening riff was originally conceived to be something of an 'INTRONAUT meets LEPROUS'-type riff that then lead into something similar to early TOOL tracks. The chord progression in the chorus is actually the same one as the one used in INSIDE, but played quite differently of course.

The opening/main riff to THE ARCHITECT OF THE SKIES was something that just came about in the rehearsal space. It carries a scent of of SEVENTH WONDER and IRON MAIDEN in a way - and Erik's first instinct was to write a "huge epic track" out of it. For some reason the song took a left turn and ended up quite "short and catchy", but we are more than happy with the end result!

The lyrics, in a way, deal with the idea of immortality and how artists can achieve a form of eternal life by creating art that lives on after they are long gone.

KEROSENE was written before the recording of DISTANCE, and is in a way PYRENE's little sister. We eventually decided the arrangement needed some refinement and so it was saved for a later release. Out of the new songs, KEROSENE is the one most reminiscent of DISTANCE, a sort of bridge between the albums, if you will. It is also one of our very few instrumentals, or rather, it has some vocal harmonies, but no lyrics. Early on, there actually were some lyrics in progress, but they ended up being scrapped and replaced with this semi-instrumental concept. Of course, it leaves the song very open ended, as the title and the soundscapes themselves are the only clues to what the song is really about.

MIRAGE was the last track to be finished and ready for recording. The opening/main riff is something that Erik came up with when he was messing about at work one day whilst waiting for his students to arrive. The riff in the bridge section is Johannes' creation and was written at a rehearsal after someone said "Hmm… there should be a build up, unison riff here…", upon which Johannes left the room for a few minutes and then came back with this (actually quite tricky) line that occurs throughout the song.

An idea that we originally had with the song was to make it a bit like the song YOUR KETTLE by the band PORTAL, in which every riff fits "on top" of the other. In the end, it didn't quite work out that way - but the idea to have every riff in the song being played at the same time was actually something that Erik had in mind for quite a while whilst completing the arrangement of the song.

Lyrically, this is the closing point for the story, which mirrors back to the opening and transcends to new territory, just as it was promised in the beginning.

- Any specific influences towards music or lyric subject?

Musically, it is what would happen if GOJIRA made a baby with GENESIS (around the FOXTROT era, not the I CAN'T DANCE era.) and put an accordion in the hands of the baby. The lyrical themes are mainly collected from present day news cycle mixed with fantasy, existential questions and fears that some of us carry on the inside.

- How long did it take to make this album:

It depends on how you start counting. We decided early 2017 that we wanted to make a record the following summer, although at the time we were not sure if the format would be an EP or a full-length album. Spring was spent rehearsing and finalizing arrangements, and eventually recording preproductions. We had planned to start recording in July, but we ended up delaying it and so we recorded drums early September, the rest of the instruments and vocals throughout autumn, and then having a final master late December. However, several of these songs date back as early as 2014, from when we were writing songs for DISTANCE. We felt some of the songs were not ready for DISTANCE, due to not feeling quite finished or not fitting the mood of the album, so they had to wait for this one.

- What have the different musicians contributed to the result?

As a general note, Erik wrote most of the riffs and chord progressions, and Johannes wrote melodies and lyrics. Exceptions include THE FOOL WHO WOULD BE KING and THE ARCHITECT OF THE SKIES, which were mainly written by Erik, and KEROSENE, which is Hjalmar's creation.



---

1. Inside
2. The Fool Who Would Be King
3. Drowning
4. Nine Lies
5. The Architect of The Skies
6. Kerosene
7. Mirage







---

Markus Tälth - lead vocals, electric and acoustic guitar
Erik Arkö - bass guitar, spoken voice
Johannes West - accordion, synthesizer, backing vocals
Karl Björk - drums
Hjalmar Birgersson - piano, keyboards, backing vocals, additional electric guitar





All tracks recorded, mixed and engineered by Jocke Skog
Mastered by Tony Lindgren at Fascination Street Studios
Drums recorded at BMP Barock Music Production AB, Stockholm
Backing Vocals, Acoustic Guitar and Acoustic Accordion recorded at Sunmountain Facilities
Vocals recorded at Nale HQ, Stockholm


---




---


facebook.com/structuraldisorder
Instagram: @Structuraldisorder
Twitter: StrDisOfficial
Youtube.com/structuraldisorder