Thor Sejersen Riis - The Eternal Now
LMC526
6419922005057
Release Date: March 30,02023
Debut release of Danish guitar virtuoso

Danish guitarist and composer Thor Sejersen Riis spent his teenage years delving into music and practicing the guitar intensely. While his preferred type of music is Heavy Metal, and the various subgenres contained within this umbrella term, he is also inspired by genres such as Jazz Fusion and Classical music. His main influences include Jason Becker, Marty Friedman, Paul Gilbert, Bruce Bouillet, Joey Tafolla, Tony Macalpine, Vinnie Moore, Al Pitrelli, Tony Fredianelli, Kirk Hammett, Dave Mustaine, Yngwie Malmsteen, Steve Vai, Shawn Lane, John Petrucci, Alexi Laiho, Andy LaRocque, Pete Blakk, Billy White, Rusty Cooley, George Bellas, Marco Sfogli, Todd Duane, Scott Stine, Derek Taylor, Brett Garsed, T.J. Helmerich, Allan Holdsworth and many more.

Always seeking out new techniques and concepts, Thor spent much time studying various guitar instructional videos as well as watching instructional material made for other instruments. At one point during his early years as a musician, Thor entered and won a guitar contest where the 1st price was a one time guitar lesson with guitarists Sam Totman and Herman Li of Dragonforce fame. Thor was thus taught lots of new licks and tricks from some of his personal guitar heroes when he met them for his guitar lesson in Copenhagen, Denmark.

After spending much time playing with various musicians in the danish metal scene and recording demos throughout the years, Thor Sejersen Riis released a full length album called "The Shadow Over Innsmouth" with his band "Innsmouth" in 2014. The band played Technical Death Metal, and the concept of the band was heavily inspired by the writings of H.P. Lovecraft.

However, in the years leading up to this release, Thor was diagnosed with a rare condition called "Focal Dystonia", sometimes referred to as "Musician's Dystonia". In Thor's case, the condition manifested itself in the hands as severe tension and frequent cramps while playing the guitar. The symptoms gradually intensified which prevented any touring after the album release.

In an attempt to recover and regain the ability to play guitar, the danish musician had to step away from the music scene and go through retraining and intense soul searching. After taking a long break away from recording music, the danish guitarist is now back with a new album. "The Eternal Now", is a diverse instrumental metal album primarily inspired by the many "shred" guitar albums that Thor grew up listening to. The record consists of eight distinct and unique songs that contains plenty of shredding guitar solos as well as great performances on drums & bass. The record also includes three bonus demo tracks that were recorded in 2009/2010.






Tracklist and Thor's notes about each track:



1. Power Overwhelming
I played Death Metal for quite a few years and I was sometimes labeled as a "Death Metal guy", and while I definitely enjoy that kind of music, I also enjoy so many other genres of Metal. Power Metal has always been a fascinating type of music to me, and bands like Dragonforce, Sonata Arctica, Rhapsody, At Vance as well as more progressive bands like Symphony X, Adagio and Angra have given me plenty of adrenaline boosts. This particular song was written on a cold winter night in Aarhus, Denmark. I was feeling unusually energetic and thus wanted to write an uplifting Power Metal song. The 8 finger tapping part in the middle of the song was written and added later on.
Much of the song is based on a 5/4 time signature riff. Towards the end of the song, after a modulation has taken place, this riff changes to a 3/4 time signature. This change felt very natural to me, and I really like this brief variation. The blast beat that Danni added on drums, as well as the economy picking lick that I play over it all, makes this one of the coolest moments on the record. The working title of the song was "Glory Overwhelming", but in the end, I ended up changing the title.

2. Ataraxia
This is probably my favorite song on this record. The long outro solo section is something that I am particularly proud of. This was also the first song that Danny recorded when we were working on the drums. I picked up Danny in Skive, Denmark on a very cold day in January 2022. We drove to the studio in Nykøbing Mors, Denmark and he went in and recorded a great take of this song. Needless to say, I was very impressed!
Marco Angioni, who produced the record, told me that this song reminded him of something that Steve Vai could have written. I was very pleased to hear that! I think a combination of the main chord progression as well as a heavy dose of wah and whammy pedal might be the cause for any possible resemblance.
Since there wasn't a constant wall of heavy rhythm guitars on this song, I knew that the bass was gonna play an important part, and Martin really provided some great and tasty bass lines that improved the track quite a bit.

3. Between Rage & Serenity
This song pretty much wrote itself without my mind interfering too much in the process. I wrote the song after getting the compilation CD "Ominous Guitarists From The Unknown" as well as the compilation CD series called "Guitar On The Edge". I heard so much crazy and awe-inspiring guitar playing on these albums and my mind was overflowing with inspiration.
The song sounds quite aggressive at some points whilst sounding very serene at others, which wasn't a conscious choice that I made, it just turned out that way. A quote from the X-Men franchise ended up fitting the mood of the song perfectly, and thus the title turned out the way it did.

4. Graveyard Poetry
I first developed the condition known as "Focal Dystonia" in my right hand in 2011. When I was recording this album in 2019 my right hand was in a pretty good condition. However, when I was recording "Graveyard Poetry", I could feel dystonia symptoms starting to appear in my left hand as well. I ended up having focal dystonia in both hands which prevented me from playing guitar. In an attempt to recover and regain control, I had to stop recording completely. It felt good to be able to finish this song 3 years later.
The title of the song was inspired by some of the Gothic literature that I studied at Aarhus University. I have always been very intrigued by Romanticism, Dark Romanticism as well as Gothic and Horror literature. These literary genres provided much of the inspiration for this tune. I was also listening a lot to the danish keyboardist Finn Zierler and his band Beyond Twilight at the time that I wrote this song. Though the song doesn't really sound like Beyond Twilight, they were definitely a great inspiration for me at the time of composing "Graveyard Poetry".

5. Infinite Substance
A rough version of this song was written and recorded within one day back in 2011. The song was supposed to be used for a low budget Danish short film. Later on some new parts were added. These new parts were written during a university lecture, where I unfortunately wasn't paying too much attention. I wrote the new parts without a guitar and without hearing what I was writing down. When I got home from the lecture I started playing the new parts and I liked them so much that I added them to the song. The working title of the song was "Die Zukunft Ist Vergangeheit", which was inspired heavily by the X-Men franchise.
When I wrote my master thesis at the university, I focused on certain aspects of the philosophy of Georg Wilhelm Friedrich Hegel and Friedrich Wilhelm Joseph von Schelling. Whilst writing the assignment, I also found myself studying Baruch de Spinoza to some degree. The final title of the song is a reference to the philosophy of Spinoza and is related to the particular topic that I wrote about.
The song involves a lot of 7-string guitar. I was using 7-string guitars quite a lot in 2009-2012 when I was listening a lot to players like Jeff Loomis, Chris Broderick, Steve Smyth, Stephán Forté, Rusty Cooley, Marcel Coenen and Niels Vejlyt. The song is quite heavy and is at times very reminiscent of the very heavy and intricate Death Metal type songs that I used to write a lot of. A rather tricky riff that alternates between a 6/8 and an 11/16 time signature shows up twice in this

track. This particular riff was inspired quite a bit by bands such as Death and Nevermore. Marco Angioni played bass on this track, and he did a really good job. Pay close attention to the cool shredding bass lick that he plays after the main solo section.
6. The Eternal Now
This track was one of several songs written when I suddenly had the glorious idea of making a record consisting of Synthwave music combined with metal elements. This idea came to me while I was studying at Aarhus University. I listened to lots of Synthwave music whilst writing my exam papers. Around this time I realized that I really liked this kind of music. I also realized that Synthwave would be even cooler if crazy guitar solos were added.
The main solo section of the song was something that I came up with after listening to "Ram It Down" by Judas Priest. The guitar duel of that particular song is very energetic and intense, and I made an attempt to create something similar. The song is full of licks inspired by players such as Shawn Lane, Brett Stine, Eddie Head, Michael Romeo etc.
The title was inspired by certain parts of the philosophy of Arthur Schopenhauer as presented in his book "Die Welt als Wille und Vorstellung". I spent a lot of time writing about Schopenhauers concept of "will", and thus also spent a lot of time listening to Synthwave whilst writing!

7. Ghost Notes
This song was written on a very warm summer evening, where the rain was pouring down, and I was feeling a bit melancholic. I spent the evening sipping red wine and wailing on the guitar whilst listening to the heavy rain. The working title was "Regnvejr & Rotwein"; a silly combination of Danish and German, that I found quite amusing. The working title means "Rainy weather & red wine".
I have been a fan of Buckethead for many years. His album "Electric Tears" is a very special album to me. With this song I tried to create something similar to that album. The combined sounds of a repeating chord progression, uni-wah, wailing lead guitar and a thunderstorm in the background created a haunting and melancholic atmosphere. Finally, Martin composed an amazing bass line played on a fretless bass that added even more of a sorrowful vibe to the track.

8. If You Can Sing It, You Can Play It
When I was younger many jazz musicians kept bringing up the quote: "If You Can Sing It, You Can Play It", which at the time puzzled me quite a bit, because I could play way faster and crazier than I could sing. The song brings me back to the time when I was practicing like crazy in my home in Harre, Denmark. The working title of the song was "Shred i Salling" (Salling is the part of Denmark, that I grew up in). When Martin recorded his bass parts the working title was changed to

"Bas i Balling"(Balling is a small town in Salling). I found these two titles hilarious, but in the end, the title had to be changed.
The song is inspired by the "over the top" and humorous approach of players such as Todd Duane, Mattias IA Eklundh, Ron "Bumblefoot" Thal as well as the first solo record by Richie Kotzen. Duane's "Omnipresent" and "Electrocution 250" records were particularly inspiring. This song might be the first Hawaiian metal song recorded by a danish musician, but I could be wrong. In any case, it is a quite unique song, and contains lots of crazy licks.
The bluesy section of the song draws heavy inspiration from players such as Derek Taylor, Scott Stine, Paul Gilbert and Greg Howe.


BONUS DEMO TRACKS
9. Collapsing Multiverse (2009 Demo)
I wrote this song around the time when I was finishing high school. Back then I wanted everything in my music to be as extreme and technical as possible. I think this track is a good example of that approach. In hindsight, I should have gotten a drummer to play on the demo tracks, as the drums that I came up with were a bit too crazy. There is also so much intricate stuff happening on the guitar. All the inspiration that I had been accumulating throughout my high school years was spilling forth. That is why there is almost non-stop intense shredding throughout the song. I had so many licks that I wanted people to hear! I was listening to this tune many years later, and one of my friends commented that "Collapsing Multiverse" was a good reflection of how my personality was at the time that I made the song. I guess that he was right.

10. Dissolution Of Eternity (2009 Demo)
I recorded this song in the same weekend that I recorded "Collapsing Multiverse". The two tracks were written at the same time and had a similar approach. I remember practising this song a lot in Nykøbing Mors, Denmark. I occasionally took a break from practising to read some H.P. Lovecraft and listen to some inspirational guitar shredding. At the time, I had managed to save up enough money to buy a 7-string guitar. I used that guitar for the first time on this song. I had also saved up enough money to book a studio in Aarhus, Denmark. I went to the studio and had a really good time recording these songs. I played the bass on these demo tracks and I am still quite proud of the bass solo that I play towards the end of this song.

11. The Windowless Solids With Five Dimensions (2010 Demo)
After recording my first instrumental demos in 2009, I felt that I still had some ideas for potential songs going on in my mind. One such song was "The Windowless Solids With Five Dimensions", a song that I wrote in the rather extreme winter of 2010. I remember that me and some friends went to see Obscura, The Faceless and Black Dahlia Murder in Aarhus around this time. Those bands aswell as Nile, Necrophagist, Behemoth, Decapitated, Dream Theater and Megadeth were some of the bands that provided the inspiration for this track.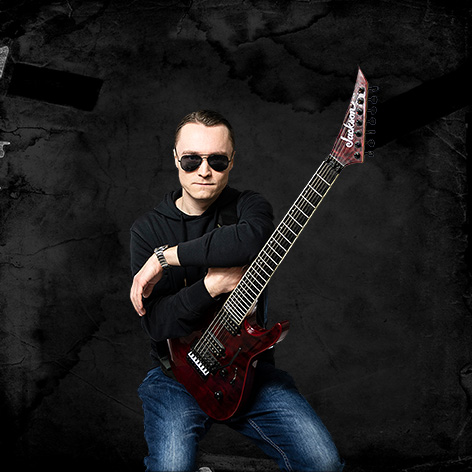 AVAILABLE IN DIGITAL FORMATS FROM ITUNS, APPLE MUSIC, AMAZON, SPOTIFY ETC.