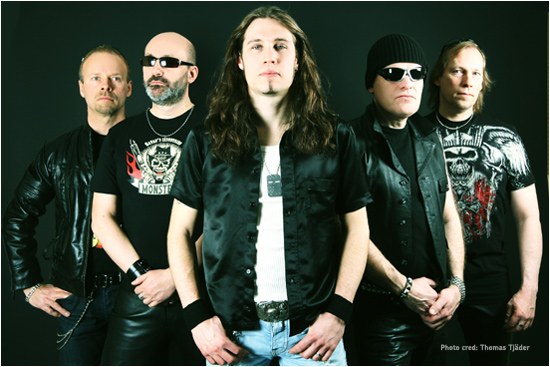 Back after an absence stretching almost 24 years Swedish traditional metallers Overdrive simply "Let The Metal Do The Taking" with an album of no-nonsense metal which evokes the best of their 80's pedigree with a production and delivery which will find a welcome home with metal fans of today. New vocalist Per "PerilOz" Karlsson joined the four original members of guitar duo Janne Stark (Locomotive Breath, Mountain Of Power) and Kiell Jacobsson, bassist Kenth Eriksson and drummer Kenta Svensson with a guest vocal on the final track from Chris Catena.
On the new material Janne Stark comments, "As this is the first album since 1984 we felt quite a great pressure on our shoulders as we don't want to deviate from our old beaten path, at the same time as we didn't want the album to sound dated. Half the songs were actually written back in 1985. I think the combination of the band and young producer/engineer Johan Blomström has enabled bridge the gap between 1980-2008…." And on new vocalist Per Karlsson, "He has definitely brought bring out the best of the band, plus he has done a tremendous job on the vocals arrangements and remedied the vocal shortcomings of our 80's output".


• One of Sweden's first heavy metal bands
• First album in 24 years
• Cover artwork by Monowasp (TNT, Ted Poley, House Of Lords etc.)
• Overdrive are available for interview via email or phone in English or Swedish.