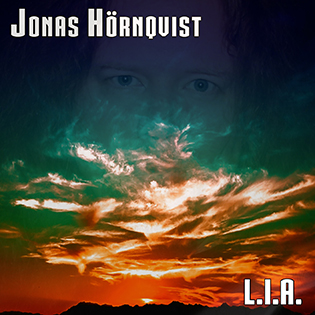 Jonas Hörnqvist is no newcomer to the metal scene. As one of the founding members of Swedish prog metal kings Treasure Land with whom he released two albums and several tribute cds, Jonas has been active in the metal scene many years. Since Treasure Land was put on hold Jonas has been working hard with Neil Turbin (ex Anthrax) and his band Deathriders. Jonas and Neil co-wrote all tracks for the upcoming cd which is currently being recorded.
Jonas has also been busy composing music for tv, movies, commercials, computer games and composing songs for artists like Joe Lynn Turner, Martina Edoff, Carsten 'Lizard' Schulz among others. Jonas is also working as a session guitarist when time permits.

The CD 'L.I.A.' Jonas has recorded is a result of Jonas diversity as a musician. L.I.A. is a mix of metal, fusion and epic orchestrated music with a strong emphasis on arrangements and melodies.



What was the goal with making this album?


The goal I had with this album was to compose metal with strong epic and orchestrated ideas. Mix the aggressive metal music with the sometimes dark elements in epic and classical music. I love to orchestrate classical music and blend it with other styles such as metal, fusion or whataver I feel like.



Any specific influences towards music?


I've always been a huge fan of well structured music such as classical music. I worked hard on the arrangements and different instruments on this cd such as cellos, oboes, strings, choirs.



How does this differ from you previous releases?


In Treasure Land I compose more progressive metal, sure there are some progressive parts on this cd but not like in Treasure Land. This album is also completely instrumental.



Please provide the history of the album i.e. when writing began, recording etc.


The composing of this album started in the beginning of 2018 and in some ways, it saved me when I was going through a really hard time in life. Music became my saviour. When I had composed and recorded the first song I got more and more and deeper into the songs and arrangements after. I fled into the music if you will. My music kept me sane and I thank God for the healing power music has on us!



Something short about each track:



I always have a vision of how the music will sound after the first rhythm, chord, melody. The problem is to be fast enough to catch all the ideas I hear in my mind. It's like a waterfall of chord-progressions, melodies, instruments...all at once!

1) We will conquer them all
I can see a battle where only the strong will survive!

2) They are coming
Imagine someone with a sinister mind sneaking up on you.

3) Let the battle begin
What I mean with by title is just not aimed towards a battle of war. It can be a battle about anything. Love, psychological. We all have battles to fight in our lives!

4) Time will tell
Time will tell what will happen with us, the people on earth! We have been so cruel to mother earth and she's starting to fight back!

5) Kneel before the king
In this track I imagined people kneeling before a king. Paying him respect.

6) The ancients
A track I wrote about the ancients, the old and wise people with a knowledge we can't comprehend.

7) From high above
Is there a heaven? Who knows?! Either we believe or not! Simple as that!

8) Victory
Like I said before, we all have battles to fight and when we have won a battle we should feel victorious. So, this track is my feeling of a Victory!

9) Kingdom come
Another vision about a kingdom far away from here.

10) Tower of the gods
In this track I envisioned two Gods up in tower reigning the earth.

11) Rainbow child
I once read about a Rainbow child and I found it so interesting that I stayed in my mind. Rainbow children are the third wave of Star children. These children are here to heal the planet and restore the balance between the world and the people who live here.

12) Moments in time
We all go through different moments in time. Some moments stay forever while the other fades away.

13) The final stand
This is it! Be ready!