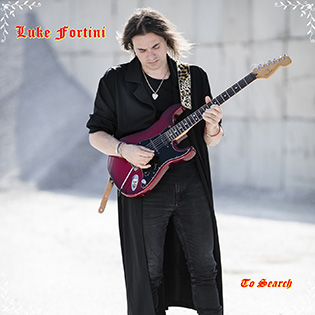 Luke Fortini - To Search
BIO:
A troubled and exciting musical journey.
At the age of 12 I was struck by listening to Live After Death by Iron Maiden, I remember that I began to design and build a sort of guitar with a piece of wood and iron wires, inspired by the photos of the CD booklet Iron, precisely a photo of Adrian Smith with a black arrow guitar.
The path seems grotesque and unlikely, but for Christmas my parents gave me a cheap electric guitar and a small amplifier, given my passion that was being born.
From that day on, something lit up and I haven't stopped since to pick up a guitar.
I've played a little bit of everything over the years, even commercial genres.
I must remember a great experience, a European tour that lasted a total of 3 years (from 2002 to 2005) with Paul Di Anno (the singer of the first 2 Maiden albums).
The realization of 2 instrumental discs, the first Space Travel and the second The Grand Opus, several instrumental demos.
2 albums with the metal band Hyperion, which has received very good reviews all over the world, Dangerous Days and Into The Maelstrom.
An album called Fate Of A king and a tour in Croatia with Imago Imperii, an epic power metal band, where I still reside as a guitarist and composer.
Finally, arrived in this strange 2020, which has kept us all closed at home for a while, I churn out a new chapter: To Search.
AVAILABLE IN DIGITAL FORMATS FROM ITUNES, APPLE MUSIC, AMAZON, SPOTIFY ETC...