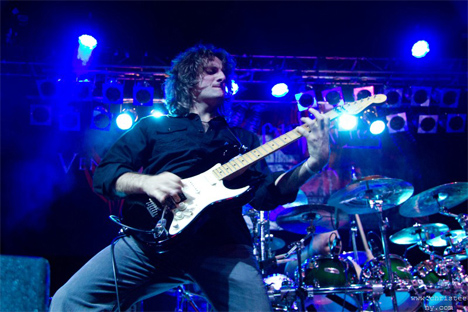 Edward Box is back with his second guitar instrumental solo album "Moonfudge". The new album is the follow up to 2003's "Plectrumhead" and to follow this in 2004 he appeared on the album "The Spirit Lives On: The Music of Jimi Hendrix Vol 1" with a bone crushing rendition of Foxy Lady.
Returning to the type of playing that first got him noticed, Ed has crafted an album in "Moonfudge" that traverses the six-string super highway with consummate ease.
In the coming months Ed will also be contributing articles and lessons to the new online guitar magazine all out guitar. Visit www.alloutguitar.com to pre register for free!
"Moonfudge" was written between January 2004 and September 2005 and was recorded in two sessions between March 2005 and October 2005. Mixing took place from October 2005 to December 2005 .
On the new material Edward comments, "It was a struggle to find inspiration and come up with new instrumental material, hence the long gap between this and Plectrumhead. Overall I think it has turned out well and has a tighter and more compact sound and I feel that it is a worthy follow up and I know fans of quality guitar music will enjoy it".
On the actual material, "Big Screen Love Theme is based around a melody line I'd had for the last 8 years and Trailblazer goes back to a riff I had in 1992/93 as does Hourglass so never discount riffs! Stantons Stomp is a reworking of a vocal song from my old band Arch Stanton with all other material based on new ideas"
Brief Bio
Inspired by the likes of Judas Priest and Van Halen, Edward Box started playing guitar at the age of 14. Early influences included Michael Schenker, George Lynch and Warren DeMartini before the explosion of guitar in the late 80's caught his imagination. With Vai, Satriani and Malmsteen firmly entrenched in his album collection, he moved from his native Cumbria to the industrial climes of Newcastle upon Tyne in the North East of England to study music where he is now on the areas leading guitar teachers, in addition Ed also plays in the band Vendetta.