Docker's Guild's new album is titled "The Heisenberg Diaries – Book A: Sounds of Future Past". It is part of a series of 4 transitional albums placed between the 5 main "seasons" and which focus on an aspect of the storyline's main character, Dr. Jack Heisenberg. This particular installment focuses on Jack's youth and love of science fiction, in fact the album contains exclusively vintage science fiction soundtracks reworked in the typical Docker's Guild sound. "Book A" will be followed by "The Mystic Technocracy - Season II: The Age of Entropy", already in development. Another unique feature of "Book A" is its all-female cast, which makes it, as far as we know, the first all-female metal opera ever recorded.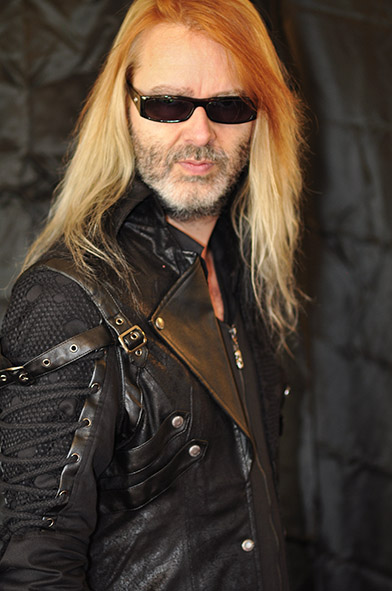 Douglas R. Docker has worked with many acclaimed artists such as Tony Franklin, Gregg Bissonette, Guthrie Govan, John Payne, Göran Edman, Tim Bogert, Tony Mills, Therion, The Vivaldi Metal Project, Frantic Amber, Shining Line and Craig Goldie, besides being the keyboardist for internationally acclaimed melodic rock band Biloxi. Biloxi's debut "Let the Games Begin" obtained worldwide success, reaching n. 10 in the Japanese charts (Burrn! Magazine) and n. 1 in England as the best import CD of 1993 (Kerrang! Magazine), as well as collecting an impressive amount of rave reviews worldwide. In the last couple years, Docker has become a rather demanded special guest and session player, having been featured on albums from bands and projects such as The Vivaldi Metal Project (where he is also co- developer of the concept and writer of all the lyrics), Tony Mills, Frantic Amber, Shining Line, Rustfield and many more.


CONCEPT
The overall story arc of Docker's Guild's space opera is rather complex and has been worked out in great detailed. Album after album, you will visit the dark world of The Mystic Technocracy, where a silicon-based techno-organic alien race attempts to wipe out all life on Earth through organized religion, while a tormented scientist makes it his mission in life to save humanity. His quest will take him across the universe and on a personal journey from which there is no return.
You will meet many characters such as Dr. Jack Heisenberg, Tith, ZZ-999, Cardinal Berengar Yersinia, Lucy Friedmann, Adam V and many more. You will visit the alien worlds of Silix IV and Carbonia in the Andromeda Galaxy, and travel back in time to the age of dinosaurs to witness their extinction.





Top-notch progressive metal space opera in the vein of Star One, Ayreon and Avantasia.

Complex and detailed storyline which unfolds through 5 seasons and 9 albums. World-class performances by an all-female cast comprising Elize Ryd, Amanda Somerville, Nita Strauss, Roxy Petrucci, Anna Portalupi, Mio Jäger,
Yasi Hofer, Valentina Procopio and Elisa Montin.

Docker's Guild has easily become a reference point in the progressive scene
after the release of its 2012 debut album. Its sophomore effort builds on the strengths of the first one and stands out for its orchestral and vocal arrangements, superb keyboards work, stellar vocal performances and the deep and well-structured concept.

Produced by Douglas R. Docker (Docker's Guild, Biloxi, Area 51)
Co-produced and mixed by Alessandro Del Vecchio (in-house producer and main songwriter at Frontiers Records, producer of Hardline, Revolution Saints, Rated X, etc.) and Douglas R. Docker

Mastered by Alessandro Del Vecchio

Superb visionary artwork by Carl-Andrè Beckston (TNT, House of Lords, Edguy, etc.)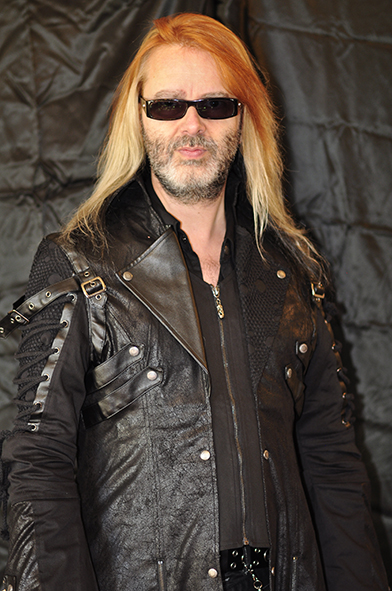 ---

Space: 1999 Year One Main Theme
2. Flash Gordon Suite
a. Flash's Theme
b. In the Space Capsule (The Love Theme)
c. Football Fight
d. Flash to the Rescue
e. Vultan's Theme (Attack of the Hawkmen)
f. Battle Theme
g. The Hero
3. Barbarella
4. Suspension
5. When the Wind Blows
6. The Neverending Story
7. Red Dwarf Theme
8. The White Light /Echoes From The Past /Dying Station /Delenn's Sunrise (from Babylon 5's final episode "Sleeping in Light")
9. Doctor Who Main Theme
10. UFO Main Theme
11. The Black Hole End Title
12. Space-Patrol (Raumpatrouille)
13. Dune Suite
a. Prologue
b. Main Title
c. Leto's Theme
d. The Floating Fat Man (The Baron)
e. Paul Meets Chani
f. Take My Hand
14. Space: 1999 Year Two Main Theme






---

THE MUSICIANS Douglas R. Docker (Biloxi, Area 51)
KEYBOARDS, LEAD AND BACKING VOCALS
Elize Ryd (Amaranthe) LEAD VOCALS
Amanda Somerville (Avantasia, Epica) LEAD AND BACKING VOCALS
Valentina Procopio
LEAD AND BACKING VOCALS
Nita Strauss (Alice Cooper) GUITARS
Mio Jäger (Frantic Amber) GUITARS
Yasi Hofer (winner of the 2014 female guitarist competition) GUITARS
Anna Portalupi (Tarja Turunen, Hardline) BASS
Roxy Petrucci (Vixen, Madame X) DRUMS
Elisa Montin (Corrupted Minds, Cellulite Star) DRUMS




---

Produced by Douglas R. Docker (Docker's Guild, Biloxi, Area 51)
Co-produced and mixed by Alessandro Del Vecchio (in-house producer and main songwriter at Frontiers Records, producer of Hardline, Revolution Saints, Rated X, etc.) and Douglas R. Docker
Mastered by Alessandro Del Vecchio
Superb visionary artwork by Carl-Andrè Beckston (TNT, House of Lords, Edguy, etc.)