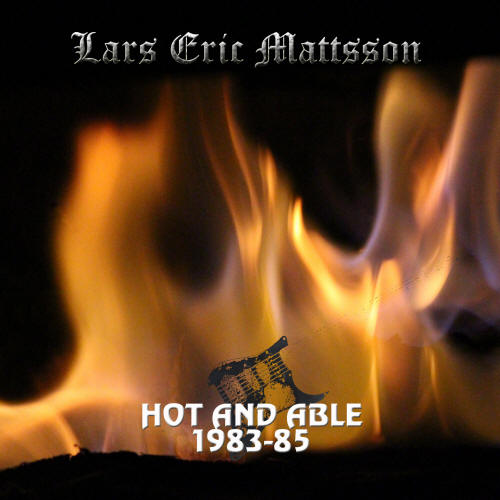 HOT and ABLE 1983-85 is the first release in a series of two made up of Lars first early works. This album features
16 never officially released tracks originally performed by his band at the time "JOE COOL".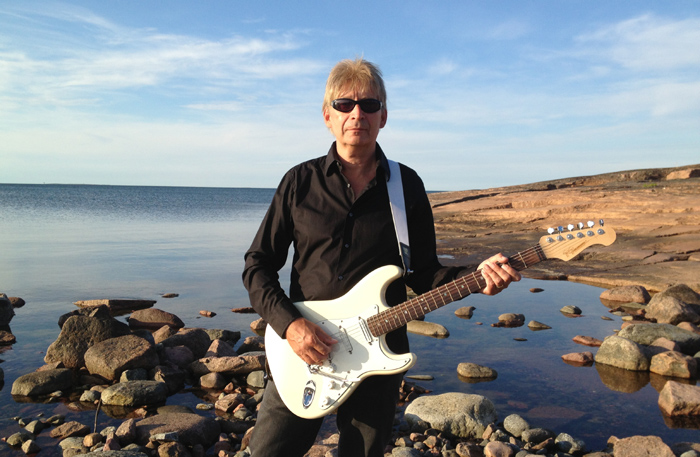 The influences of Deep Purple, Rainbow etc are never far away while neoclassical and progressive influences add spice to some of the more straight ahead rock material on this release which arguably is Lars best sounding album to date.

These songs represent Lars' first serious compositions made for and originally performed by his band at the time, "Joe Cool" which originally featured a female singer, later a male one when the band started adaping a more straight ahead hard rock style. A few minor updates to the lyrics and music were made during the recording but mostly this is what they were like originally. Original drummer Olle Sjöstrand's fine ideas have remained as an inspiration throughout the years. Some of the songs on Lars' debut album "Eternity" were take from this period though most of that album and the following "No Surrender" were written very fast in the studio while making those album and it is quite likely that these songs are superior having been road tested and developed over time while Lars was sick of them at the time and preferred not to include them on his debut and the following album. Lars recalls that going back to these songs was a decision made alrealy 6 years ago, but time did not permit this to happen sooner. So here they are, 30 years later!
The lyrics are not always to be taken too seriously while some of them had to be editied for this release. The song "Takes One Fool" written in 1983 originally suggested that we world would go under in 1984.
Recording Details:
Lars played almost exclusively Fender Stratocasters through Soldano amplification with almost no pedals (just a phaser on a few rare spots) on this recording. The Bass was performed on an early 70-ies Rickenbacker and besides the Hammond organ there are very little keyboards on this album. The last tracks was played on a fretless Bass Maniac bass and a no name acoustic nylon string. (Originally this was a piano ballad).
LARS ERIC MATTSSON - HOT AND ABLE SEES DIGITAL RELEASE VIA LION MUSIC ON 20 JUNE 2014.





01. Hot and Able
Just a simple rock track with lyrics that go with that:-) This one is from 1984 and was quite a live favourite back in the day. Originally the rempo was a bit faster but Lars felt this version is better.
02. Takes One Fool
Originally a song influenced by an Orson Welles novel predicting that the world would go under in 1984 this song more epic song was written in 1983 but for this release the lyrics have been partially rewritten. This is one of the longer and more progressive tunes from this era.
03. Run Tonight
The Purple influeces are not too far away on this funky tune with it's odd meter mid riff section.
04. Left Out in the Cold
A bluesy track that has been updated with a somewhat cooler main riff. This one is Lars' personal favourite on this album.
05. See the Stars
Starting off with a simple but cool Blackmore influenced riff that originally was running much longer and a solo section that oozes neoclassical this one was a real favourite back in the day.

06. Scarlet
This one has been re-arranged quite a lot since the original version which did not have the same cool rhythm guitar riffs.

07. Don't Think It's Love
Neoclassical, slow and heavy track with lyrics that should not be taken very seriously.

08. This Wolf Hunts Alone
One of the first songs Lars wrote, the lyics won't bring him any awards but then again this one should not be taken too seriously!
09. Lay Down Your Sword
A progressive and somewhat epic anti war song that was one of the real favourites live.
10. Rock the Nation
Written for the stage this rocker should not be tarken too seriously. The track mixes simple rock and roll with a few unusual chords and odd beat riffing in a weird but fun way.
11.The Dream has Gone
Written in 1984 this track mixes traditional heavy metal with neoclassical in a way that was quite unique back in the day.

12. Don't Throw Away
One of the first songs Lars wrote in 1983 and one of the first performed by "Joe Cool".
13. Enola Gay
Perhaps a bit naive, but never the less an anti nuclear weapon / arms race song. Musically this one has stood the test of time very well.
14. Stranger in Your Own Land
Typical early 80-ies track with some neoclassical touches. The lyrics were reworked for this release to make it clear that this song is about not accepting intolerance.
15. Eyes of a Liar
The probably most 80-ies sounding of all tracks on this release. Well, I guess Joe Cool were dreaming of a major label deal at the time, what else can you say:-)
16. Out on My Own
Originally a piano ballad, Lars here decided to rearrange it for acoustic nylon string guitars with a slight jazz feel.



---

01. Hot and Able
02. Takes One Fool
03. Run Tonight
04. Left Out in the Cold
05. See the Stars
06. Scarlet
07. Don't Think It's Love
08. This Wolf Hunts Alone
09. Lay Down Your Sword
10. Rock the Nation
11. The Dream Has Gone
12. Don't Throw Away
13. Enola Gay
14. Stranger in Your Own Land
15. Eyes of a Liar
16. Out on My Own





---

Lars Eric Mattsson - All vocals, guitars, bass.
Christer Jansson - Drums and percussion.
Alexander King - Hammond Organ.


---

Production, Mixing and Mastering by Lars Eric Mattsson.
All music and lyrics written by Lars Eric Mattsson.
Composed 1983-85 and Recorded and mixed at the New Lion's Cage March-April 2014.