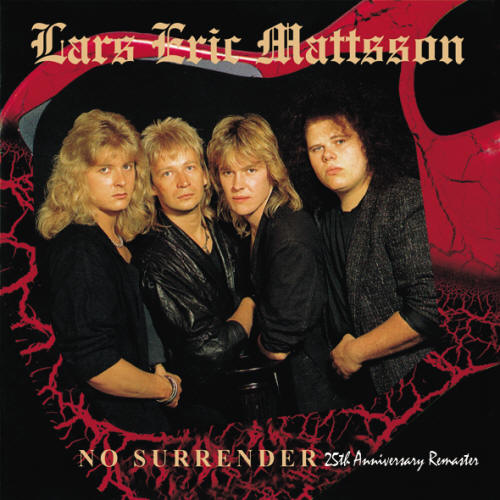 Celebrating 25 years since it's original release, Lars has remixed his second album "No Surrender" with new much improved vocals and a never before released bonus track "Never Coming Home" which was also written and originally reorded in 1989 but never used.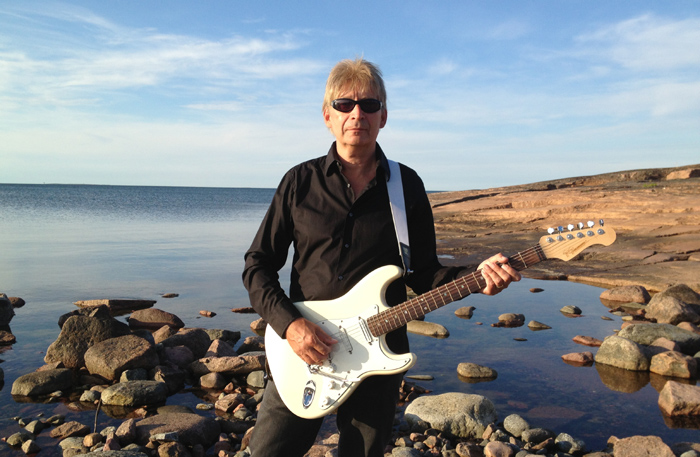 'No Surrender is a re-recorded version of one of Lars Eric Mattsson's secondalbum originally released in 1989 now celebrating 25 years since its original release. This new version sees all vocals being re-recorded with the addition of a never before heard bonus track "Never Coming Home".
'No Surrender' is classic hard rock fused with neo-classical metal all with the unique Lars Eric Mattsson flavour. Whilst the song writing might not be as advanced as more recent efforts released under the Mattsson name such as "Dreamchild", "Tango" and "War", this is a slice of history which shows an artist that has continued to grow over the 25 years since its initial release.
On the new version Lars comments, "It's now 25 Years since I released my second album "No Surrender" which landed me a Japanese record deal a year after the debut album "Eternity". While the original recordings were rushed and quite poor in quality the song writing was much better than its predecessor and I remember writing these songs with great pleasure. Most of these songs were then performed live in a number of different settings and they all seemed to transform quite well to the live stage".
"I have always wanted to return to this material to polish up all the rough ends and finally I found the perfect timing to make it happen. I think these songs showcases my early influences as well as the typical 80-ies mood that we all were in back then. Of course some things do mature better than others over time but overall I am quite happy with these songs representing my early career, and most of all, I had a really great time playing them again. I tried not to change things more than I had to and where possible maintain the original ideas rather than include more modern elements as my intention was to try to present the songs as I wanted them to have sounded at the time of composing them. Even if most guitars have been re-recorded I have copied my original ideas and basically just make them sound "the same but better".
LARS ERIC MATTSSON - NO SURRENDER - 25th Anniversary SEES DIGITAL RELEASE VIA LION MUSIC ON DECEMBER 12 2014.



01. Introduction
Recorded to two inch tape with a simple synth stacking different parts trying to imitate a symphony orchestra without really know what I was doing:-) And then there is a backwards spoken message of course.
02. Tear Down the Border
Written not too long before the wall dividing East and West Berlin came down, marking the end of a divided Germany and Europe and this was what imspired this song. I am really proud of the song's main riff that must have been imspired by Richie Blackmore's way of playing in some kind of way.
03. Lady Luck
Probably the most loved song off this album, while I do remember the guys in the band did not share this love:-) It's a quite traditional hard rock song with some chord structures typical for me in those days.
04. Since Love Died
Very few people seem to understand what this song is about. It's not really a love song you see... Musically it's a neoclassical blues based hard rock song with a cool bluesy ending that I really used to love play live.
05. Crocodile Walk
A powerful instrumental that I put a lot of work into. I think some of the melodies are really original for the time. As opposed to the instrumental stuff on my first album "Eternity" I was getting more into arrangements this time.

06. Just to Survive
One of my most personal songs off the album really showing who I was at the time both in terms of lyrics and music.

07. Chasing Shadowns
I was always more comfortable with the mid tempo hard rock stuff but here I started to experiment with some double bass drum ideas to spice up things and this song really became one of the most loved songs from the album.

08. Menuet (J S Bach)
A simple Bach piece for piano I did just for fun.
09. Proud'n'Free
This song is about being true to yourself and no to become a product of the society, not as easy as it seems I guess...
10. Midnight Train
A feeling we all might have from time to time... can't stay here...
11. Lady Death
This song is about the threat of the deadly sexually transferred disease that everybody stared talking about at the time but that no one had heard about just a few years earlier.
12. The Magician
I guess this instrumental track really shows where I was at the time musically. Neoclassical melodic metal with a good song structure that is listenable also for non-guitar players.
13. When Silence Came to Remain
This is one of my favourite tracks off the album and also one of the most original songs. Inspired by the threat of the cold war this song is about the world after a nuclear war.
14. Third Circle
I had to come up with two bonus tracks while mixing the album in 1989 so I did this one and the following track very fast. I think we just recorded the backing and then I came up with the guitar themes on the fly.
15. The Stranger
This very simplistic arrangement was probably inspired by the first Joe Satriani album while my playing is very different from his and I think I just wrote this song in 10 minutes while recording it not sure if it was gonna be a real song or not:-)
16. Never Coming Home (2014 Bonus Track)
Listening back to the original sessions I was surprised this track was never used as I felt it was one of the best compositions. However there were some minor problems with the 1989 vocals which probably kept me from using it at the time. This recording was made in July 2014, very much in the spirit of the original version, altough I left out the tack piano of the previous version.




---

01. Introduction.
02. Tear Down The Border.
03. Lady Luck.
04. Since Love Died.
05. Crocodile Walk.
06. Just To Survive.
07. Chasing Shadows.
08. Menuet (J.S.Bach).
09. Proud'N'Free.
10. Midnight Train.
11. Lady Death.
12. The Magician.
13. When Silence Came To Remain.
14. Third Circle.
15. The Stranger.
16. Never Coming Home (2014 Bonus track)




---

Lars Eric Mattsson – Guitars, Bass, Vocals.
Tony Mattsson – Drums (original release).
Goran Stenius – Bass (original release).
Orjan Sjostrom – Keyboards, backing
vocals(original release).

---

Production, Mixing and Mastering by Lars Eric Mattsson.
All music and lyrics written by Lars Eric Mattsson.
Written and originally recorded 1989, remixed for this release August 2014.




---

www.larsericmattsson.com
facebook.com/larsericmattsson